Joined

Jun 20, 2002
Posts

18,156
Qantas

Gold
Virgin

Platinum
Varig fate unclear after auction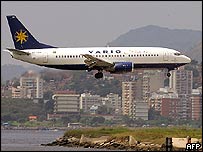 Varig's rivals failed to snap up its assets

An auction to sell off the assets of debt-ridden Brazilian airline Varig has ended with just one definite bid, from a group of the carrier's employees.

After a first round of bidding in which no-one offered the minimum price of $860m (£465m), the employees said they were prepared to pay just $449m. A Brazilian judge now has 24 hours to decide whether to approve the offer. The struggling flag-carrier's domestic and international assets, including 52 aircraft, are at stake.

Among potential bidders at the auction in Rio de Janeiro were rival Brazilian airlines Gol, TAM and Ocean Air, as well as a consortium led by Portugal's TAP. But none of them offered the minimum price set by the court overseeing the auction.

That led to a second round of bidding, at which the sole offer came from NV Participations, representing the TGV (Trabalhadores do Grupo Varig) employees' association.

Debt-free?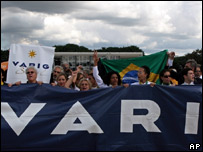 Staff at the airline have been fighting back



The auction comes as part of efforts to restructure Varig which are being overseen by Judge Luiz Roberto Ayoub. Judge Ayoub said on Monday that the new owner would not have to assume any of the airline's debt. However, many lawyers say the legal position is unclear following the adoption of a new bankruptcy law in Brazil in recent months.

Judge Ayoub is now responsible employees' bid should be approved or not. Varig has been under bankruptcy protection for a year, saddled with debts worth an estimated $3.5bn. It was the top airline in Brazil until 2004, but was then overtaken by TAM and later by Gol.

The airline has suffered financial problems for years because of rising costs and growing low-cost competition. It now has just 16.7% of the domestic market, but remains the leading Brazilian carrier internationally, with a 66.4% share. Last year it cut 13% of its 12,000-strong workforce in an effort to stave off bankruptcy. Since 1945, Varig has been majority-owned by the non-profit Ruben Berta Foundation.

Last edited by a moderator: