Joined

Nov 12, 2012
Posts

19,658
Qantas

Platinum
(This may seem familiar to some; I started a similar thread some time ago but stopped after a few posts when there was a terrorist attack on Tunis - thought it was time to start again, as I don't think there is another TR on Tunisia.)
A few years back I was doing some work in Morocco and stopped over in Tunis on my way over to check out the local attitude to mining and exploration. At the time, people pursed their lips a bit at the thought of my going to Tunisia - its bordered by Algeria to the west and SW and Libya to the east and SE and had suffered a terrorist attack a few years previously (and a prominent one since. But I did some research, found it hard to resist.
Tunisia was where the 'Arab spring' started. Its a reasonably liberal Islamic country.
I went across on QR J. Itwas a night flight and the bed was comfortable and the service OK. I flew QR321 MEL to Doha. There was an unavoidable 19 hour stop-over in Doha until the QT flight to Tunis, from about 06:00 to 01:45. QR at the time had a stopover deal on offer:
You may be eligible for transit hotel accommodation in Doha, if you meet the following criteria:
* Are travelling with Qatar Airways,
* There are no Qatar Airways flights with immediate connection (for the required date of travel date of travel irrespective of fare level or availability,
* You have a transit time of between 8 and 24 hours at Doha International Airport
* The type and level of airfare that you pay will govern whether you will receive the service free of charge (complimentary) or if you must pay to receive this service.
'May' turned out to be the operative word. Flights ex Australia didn't qualify.
Not happy, Jan!

In the end I bought a day at the 4* Oryx Rotana hotel, including lunch and dinner, visas and transfers for US$125, through the airline. Still not a bad deal, but ...
At DOH airport, I was met pre immigration and offered a cool drink while we did paperwork. Then a young lady escorted me through immigration and customs and took me to the Merc which then took me to the hotel. All very easy. At the hotel I was given vouchers for lunch and dinner (I was entitled to 2 meals and specified the ones I wanted).
Freshened up ... now what? I hadn't planned anything, but a hotel car was available for a couple of hours at b-all cost, so I got the guy to drive me round a bit. Doha is a bit like Dubai, with its show-off architecture, but much smaller (or so it appeared to me).
This is the museum of Islamic Art (very cubic...) and the view to the city from it. It was a searing hot and humid day, so I didn't spend much time out of the aircon car.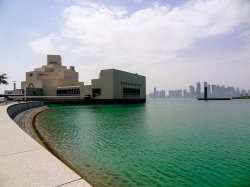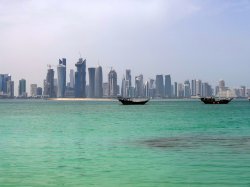 One of the main mosques: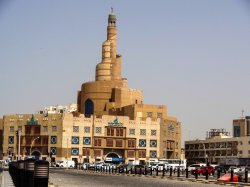 Public art space: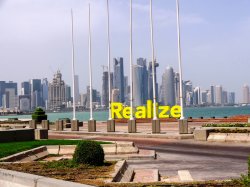 Downtown. I found it quite uninteresting: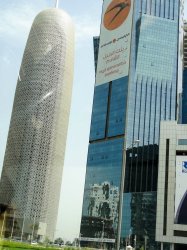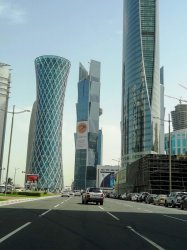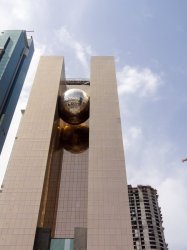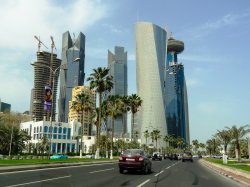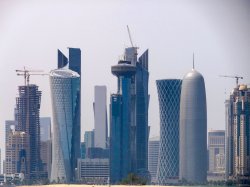 Last edited: