Joined

Nov 12, 2012
Posts

20,933
Qantas

Platinum
Finally!
I've done a bit of travelling over the past 10 years, including to some pretty good destinations, including Iran, the Galapagos, Russia etc. But I don't think I've ever looked forward to trip like the one I leave on today -
The 5 Stans of the silk road,
a tour by
Exodus Travels
. To make it better, I'm travelling with my mate
@JohnM
, who introduced me to the tour.
I've been wanting to do the 'Stans for about 7 years. When I first started looking, you did the east (or west) and then flew domestically to the other side, as there was b-all infrastructure in the middle. I couldn't face a flight on 'dodgy air', so no deal. Then JohnM tells me about this trip, all on the road, and I was instantly in. Booked over a year ago, and I've been counting down the time since then. I haven't dared to start the TR until now, because, as before, a few on-going health issues had to be kept under control. I think I've worn out my welcome with my GP and specialists as I got the 'belt and braces' re-assurances and advice that I was good to go! I'm carrying a veritable pharmac_ with me, with covering letters from doc etc, to (hopefully) make sure they get through Dubai and each of the Stans. Got a rabies vaccine for the first time and topped up the travellers first aid kit.
This is the air route: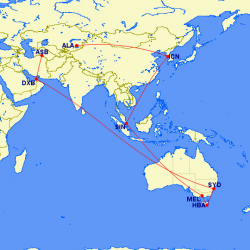 Flights are:
QF J HBA-SYD (QF Award)
Emirates J SYD-DXB (QF Award)
FlyDubai J DXB-ASB (Ashgabat) paid
Asiana J ALA (Almaty) - ICN (LIfeMiles Award)
Singapore Airlines F ICN-SIN-MEL (SQ Award)
QF J (MEL-HBA Award)
And here is the land component (note the stay in Termez - we have 2 nights on the Afghanistan border - I'm hoping to add a 6th 'Stan to the trip by a quick border crossing. I wonder of they have Visa-on-Arrival?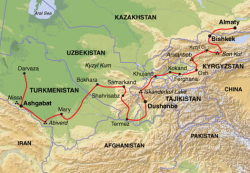 The infrastructure is still a bit limited in Kyrgyzstan, and we are in home stays for a couple of nights, and a yurt features as well!!
I'm currently in the Hobart QP, with all fingers crossed the next few flights go OK. We only got our 'letter of invitation' from the Turkmenistan authorities yesterday, so that was cutting it fine. Tajikistan requires an eVisa (4 days after on-line submission); Turkmenistan the Letter of Invitation to be got beforehand, obtained via the tour organiser, with this, you can get a visa on arrival; for the other countries, Australians don't need a visa, or get it on arrival.
Turkmenistan is a bit tricky to visit. Difficult to be an independent tourist. An authorised group has to arrange your Letter of Invitation; on arrival, the authorities there require you to have transport organised from the airport to the hotel. Its almost impossible to book hotels on-line. I'm arriving 2 nights before the tour starts (airline scheduling, plus some caution), so tried to book a hotel for those nights, but the only way was via an awkward funds transfer via booking.com. I ended up booking the extra nights at the tour hotel, via the tour organised, Exodus.
I'm really looking forward to seeing this: 'The door to hell'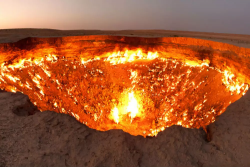 Last edited: