Joined

May 24, 2006
Messages

2,009
Points

700
It's time to hit the skies and the roads again. This time it is to South Africa, Mauritius and Italy for 12 weeks. We have 6 weeks in South Africa, one in Mauritius, nearly 4 in Italy with a few days in Hong Kong and Sydney tagged on at the end.
We have been to South Africa twice before and to Italy numerous times but this will be the first time in Mauritius. It is pure coincidence that we happen to be in Durban, Port Elizabeth, Cape Town and Johannesburg at the exact time the Australians are playing South Africa in their 4 Test cricket series. At least that is what I am telling the OH but I am not sure he believes me.
The plan is to have a reasonably quiet time in SA. We'll be moving around by plane and car but are trying to uses bases rather than continuous movement. In Italy we'll be travelling by train.
All of the long haul flights are using miles from AA, QF and VS in J. Most of the internal flights in SA will be paid for and will be in Y.
The trip starts tomorrow when we fly to Sydney to overnight prior to getting onto QF63 for the flight to Johannesburg.
Below is the overall map of the trip which does not make a lot of sense. The map of the first section, over 10 days, MEL-SYD-JNB-MRU follows.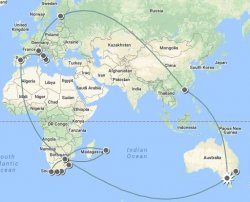 I hope some people get some enjoyment out of this trip report as I am sure we will doing the journey.