Joined

Nov 17, 2004
Messages

3,017
Thought I would write a summary of a 4 night stay we had here last week. The apartments are around a 5 minute drive from the Gold Coast airport. We were staying with another couple so we opted for a 2 bedroom/2 bathroom apartment
Really enjoyed our stay here
1/ Check-in was no problem-issued 2 sets of keys/lift fobs. Need the fobs to access the carpark & the lifts. There are only 2 lifts but we didn't encounter any long waits. The lifts are a very quick ride.
2/ Room was well laid out for 2 couples. Big apartment overall, both bedrooms had a bathroom and good soundproofing within the apartment. The room was in good repair overall and the beds were really comfortable. Note there is only hanging space in one of the bedrooms. It was very handy to have such a large fridge. We did not use the cooking facilities. While they advise at the time of booking that you are only issued a starter pack, it seems pretty short sighted to only supply 1 lot of machine dishwasher & 1 lot of hand dishwashing liquid-then expect you to leave the apartment all clean. There were a couple of maintenance issues that we advised on the departing guests form.
3/ Location-top spot on the quieter end of the Gold Coast that suited us fine. Plenty of food outlets & variety of food within easy walking distance. Great facilities straight across the road for walking/cycling/surfing or just relaxing. On the Sunday we were there the markets were on. With the apartment doors (full height glass sliders) closed there was no problem with traffic or pedestrian noise. It was very smoky from the bushfires when we were there but the balconies have great views & we spotted plenty of whales while sitting on the balcony
4/ The allocated underground parking spot was fine & easy to locate.
5/ Pool area-despite what we had read the pool was not heated while we were there. The presence of plenty of toddlers in it didn't make the spa an attractive proposition for us. The
5/ Checkout-we left before the desk was opened. There is a dedicated spot to leave the keys-get your car out first
Executive Lounge is a nice area but we didn't use it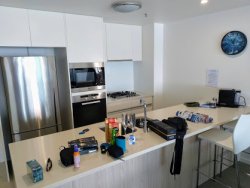 Full size fridge, oven, microwave, dishwasher, coffee maker (only 2 pods as starters)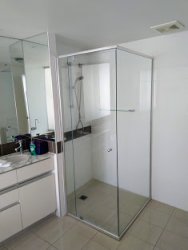 Other bathroom also had a separate bath & a similar shower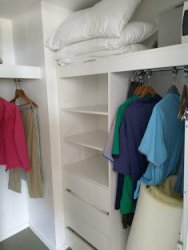 this was the only hanging space(none attached to the bedroom we had)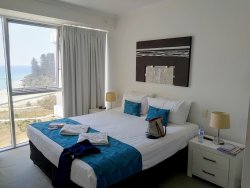 Both actual bedrooms pretty similar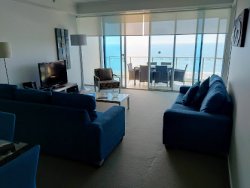 There is some variety in layout throughout the tower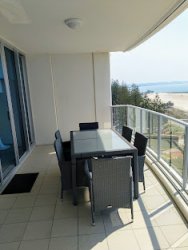 Balcony was nice & deep & had great views