Having only driven in and out to drop off the people we'd gone up to Cooktown with Port Douglas was a bit of a surprise. For a start way too many fancy NSW and Vic cars parked up and down the main street. Ignoring that it was actually really nice. Lots of great looking restaurants and cafes and much more bustling than sleepy Palm Cove. We parked down by the water and then had a wander around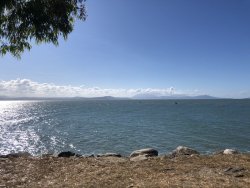 had lunch at the Central Hotel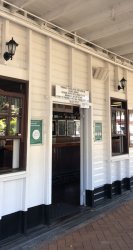 then drove kilometres back out of town to our lodgings Ramada Resort by Wyndham Port Douglas. What a ridiculous name!
Ramada Port Douglas Accommodation | Ramada Resort Port Douglas
It actually looked pretty good from the road and it got better as you walked into the lobby and out into the centre of the hotel.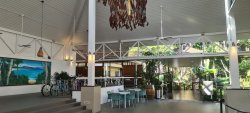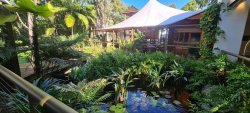 Best of all there is s shuttle service that runs all around Port Douglas with specific regular stops plus you can call them to pick you up and drop you off. $4pp each way. Bargain
Really impressed with our ground floor room that had a shuttered sliding door that opened out to the garden and the stream that ran down to the ginormous pool. After the rock hard bed at Ferntree this one was like floating on a cloud