Joined

May 19, 2009
Messages

532
Points

305
I've got heaps more pictures on my blog!

At the start of the year, my brother mentioned that he would be holding a 10 year anniversary show and wanted me to be there for support to which I put aside in my mind until he asked if I was going to be there a week before the show. Shiitake mushrooms I though and immediately searched the web for the best flights, reward bookings, and practically everything to which none suited me until I saw the one way Qantas pricing from Melbourne via Sydney.

I didn't know what to expect when I finally had a confirmed itinerary for my flight to the United States on Qantas. I would usually stick with Virgin Australia but as my trip was very last minute and there was a budget I had to stick with, Qantas was the cheapest airline offering one way pricing as this trip would be the first trip I would be taking with Australia's flag carrier in over five years.

The day finally came and the only thing that bothered me was the 0800 flight to Sydney which meant I had to be at the airport at 0630. I'm not a OMG O'clock person but beggars can't be choosers so I was up at 0530 to shower, do a final check of things as well as catch a cab to the airport, I managed to sleep at 0235 so just as I was hitting the sweet sleeping spot my alarm and partner who got woke up by the alarm both were trying to get me up.

I arrived at the airport and made my way inside to see self drop bags and a walk towards T2 saw some human check in and bag drop counters to which I waltzed up and proceeded to check in for my flights. A friend was monitoring seats for the long haul and he alerted that some seats in emerald city opened up so I decided to ask to be moved from 33J to 33B as both of them were currently unoccupied to which the agent happily did. Boarding passes handed over as well as information on how to transit in Sydney and I was off towards the lounge.

Going through security was a breeze as there wasn't a long wait and I was still half asleep so I decided to grab my bag and head up to the lounge as I wanted to bypass the explosive tests to which I quickly settled down.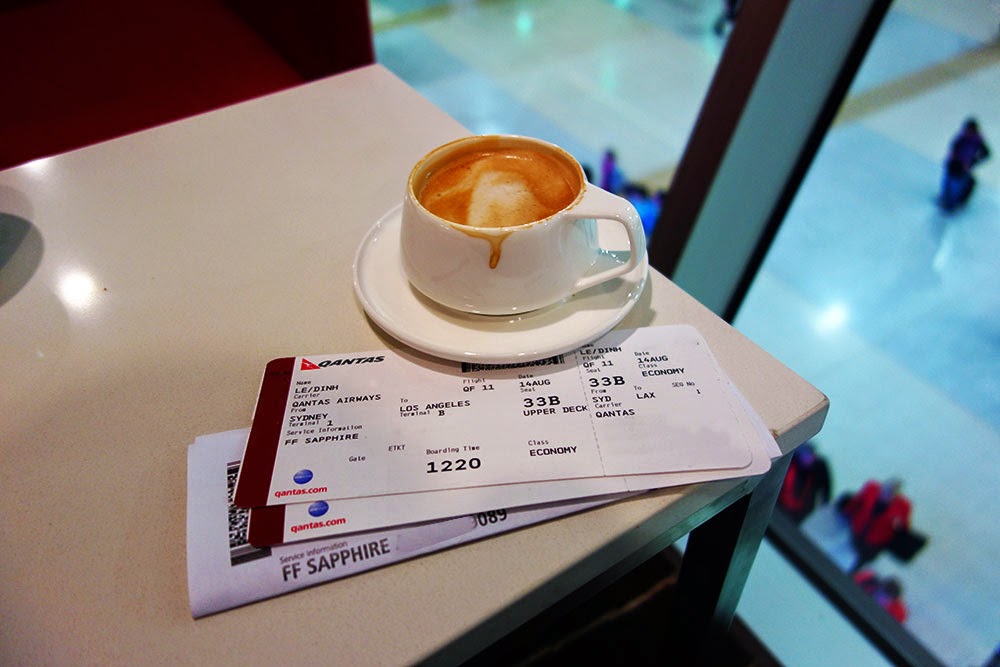 I sat and had a nice sip and relaxed as I opened up my bag and decided to grab my macbook out to browse the net until I couldn't find it. I panicked and luckily remembered I left it at security so I rushed down the escalators and towards a security guard and asked if anyone had handed in a blue macbook and Ipad Air to which he went through some documents and asked me to describe the items to which he opened up a draw and asked me to sign a piece of paper.

I thanked him countlessly and made my way back into the lounge for another coffee until I realised the check in agent forgot to prioritise my bags. In all my travels as a One World Sapphire, all my checked in bags have been prioritised to which I had a FML though as this was LAX I was dealing with, my eternal flame was extinguished as I had two more coffees to wake me up.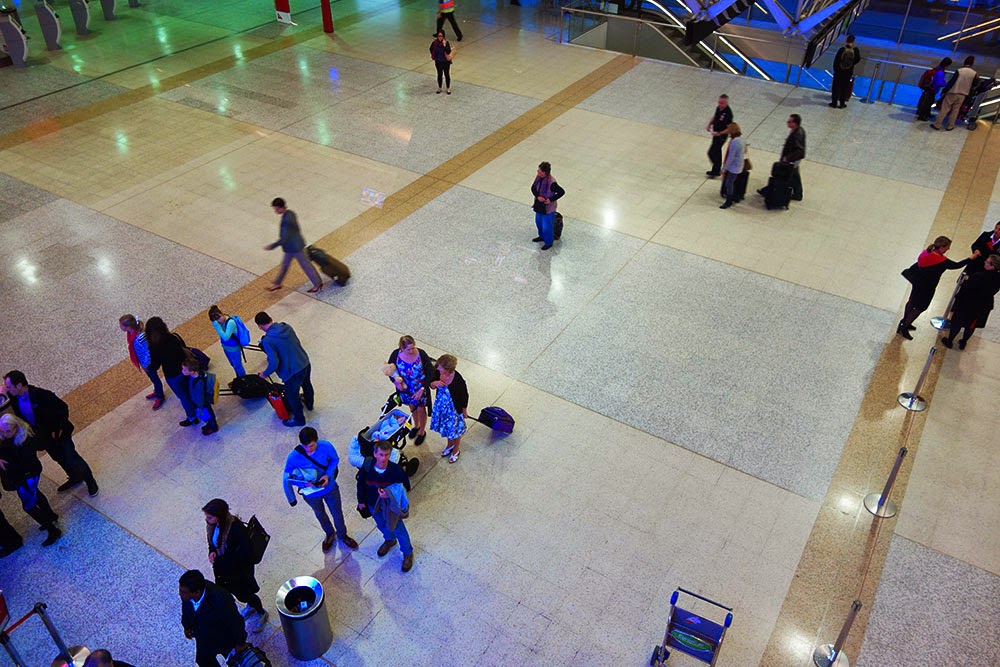 Looking down towards security in T3.

In the space of 45 minutes I consumed 6 coffees, an apple and a cookie as I made my way towards the boarding gate 3. I arrived at the almost empty gate and decided to snap up some pictures of the 767 as I wanted to fly on it before it was phased out of the Qantas fleet.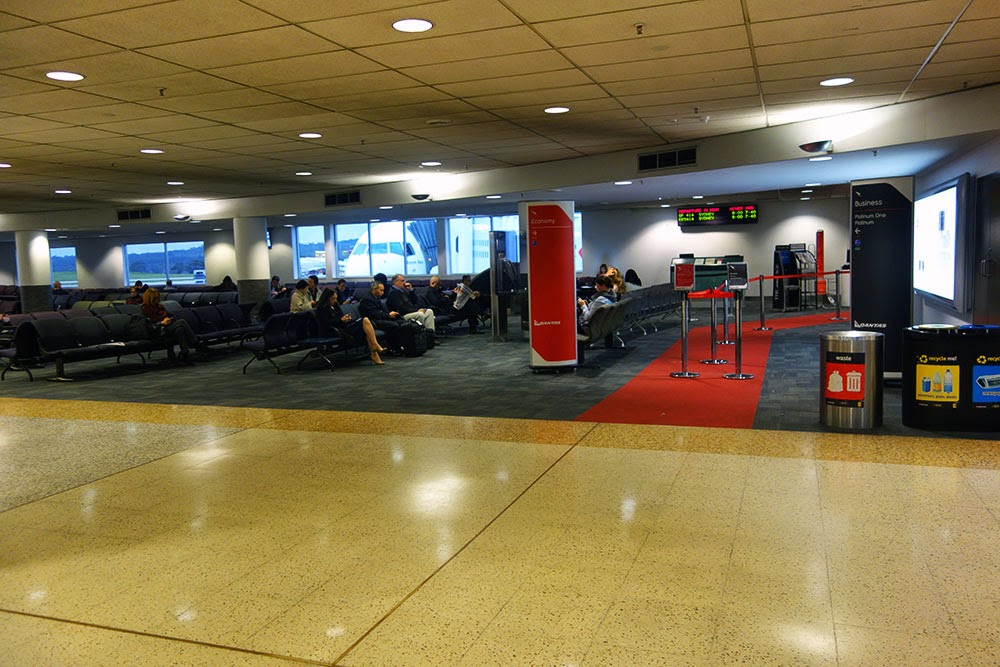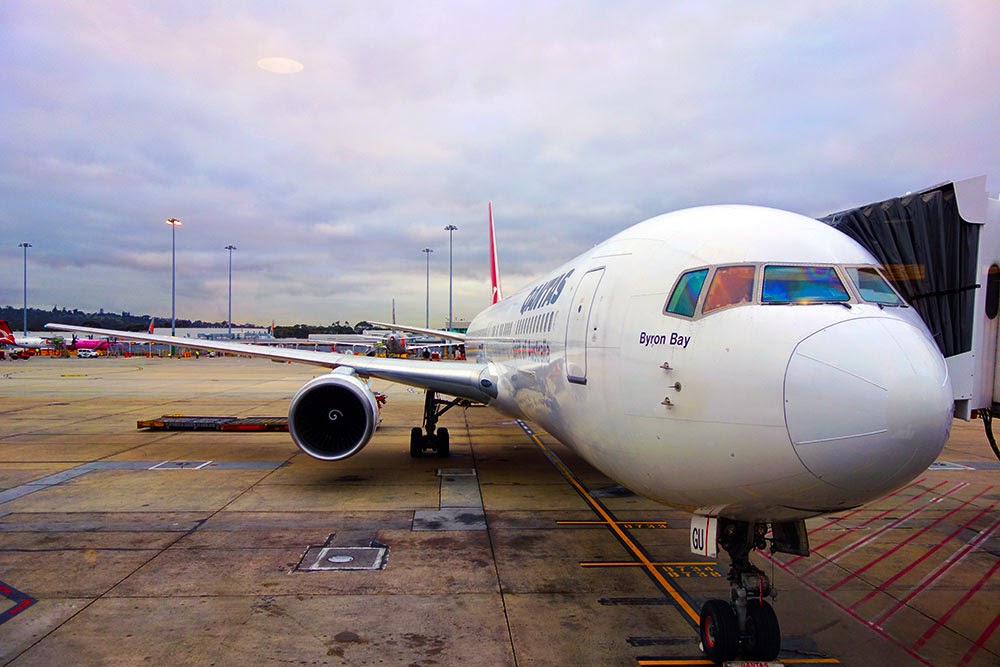 City of Byron Bay which made me think of Byron Bay Cookies....mmmm cookies.

Boarding commenced not long after I snapped up a few pictures and I was on my way down towards my first Qantas flight in five years. The crew who greeted me onboard seemed awake as I made my way towards 23K. I'm usually an aisle type of guy but made an exception for the window as I wanted to hear the powerful engines on takeoff. Passengers boarded and all things secured before we pushed back but it was delayed as cargo was still getting loaded below which delayed our departure time by 15 minutes which wasn't that much of a big deal.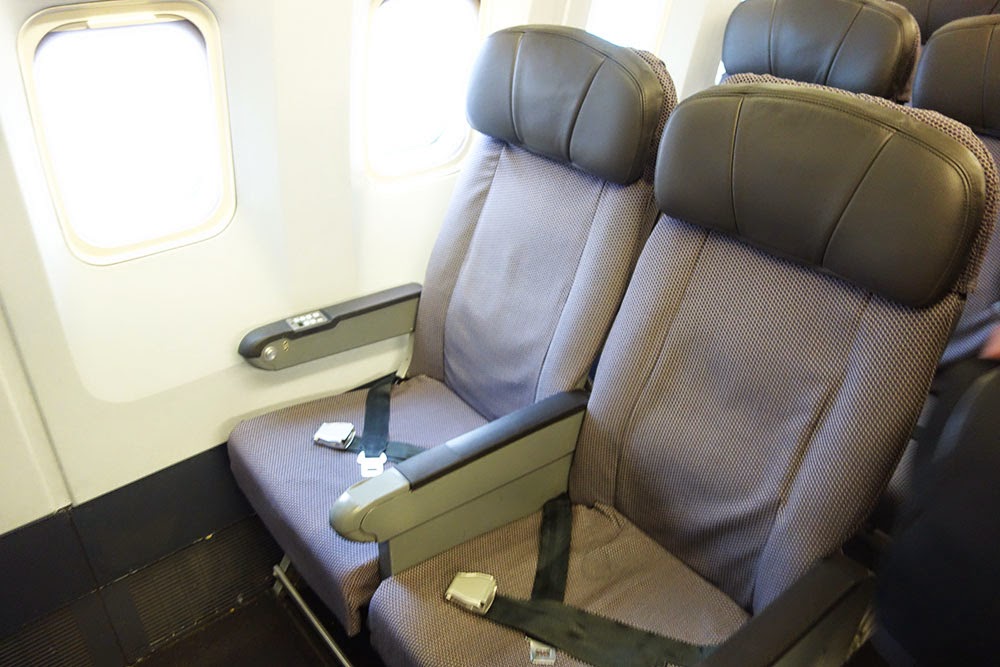 23 J&K on the 767.



Q Streaming Ipads.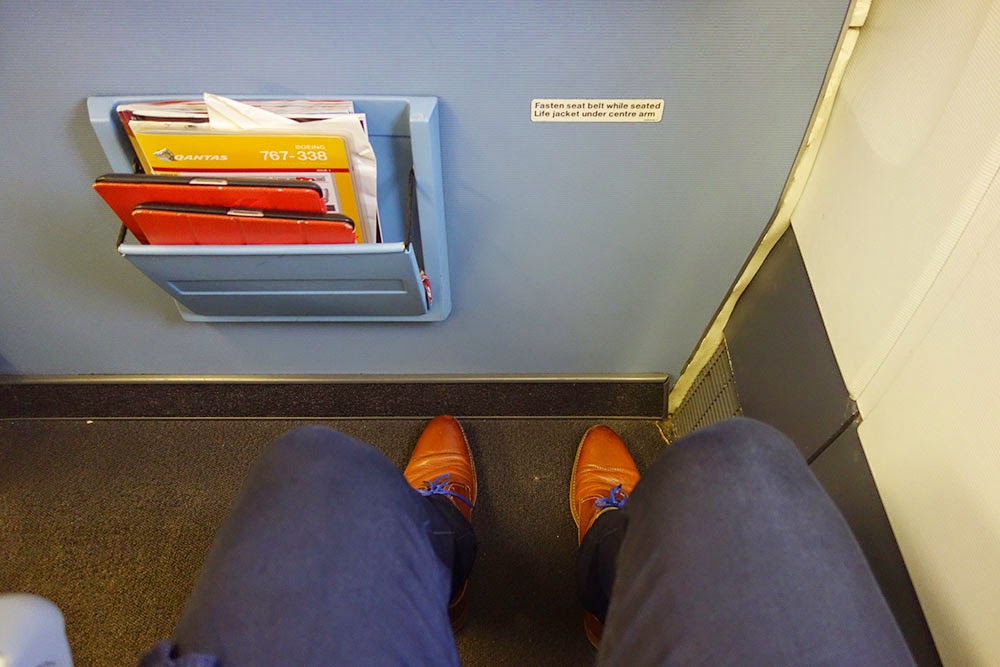 Legroom shot.

The taxi was a short one and we were second in line for take off as I sat and gazed out the windows until the GE engines began to powerfully roar as we began to roll down the runway and shoot straight up into the cloudy sky. The engine sound was magnificent as my head gently hit the back of the seat as we left the tarmac.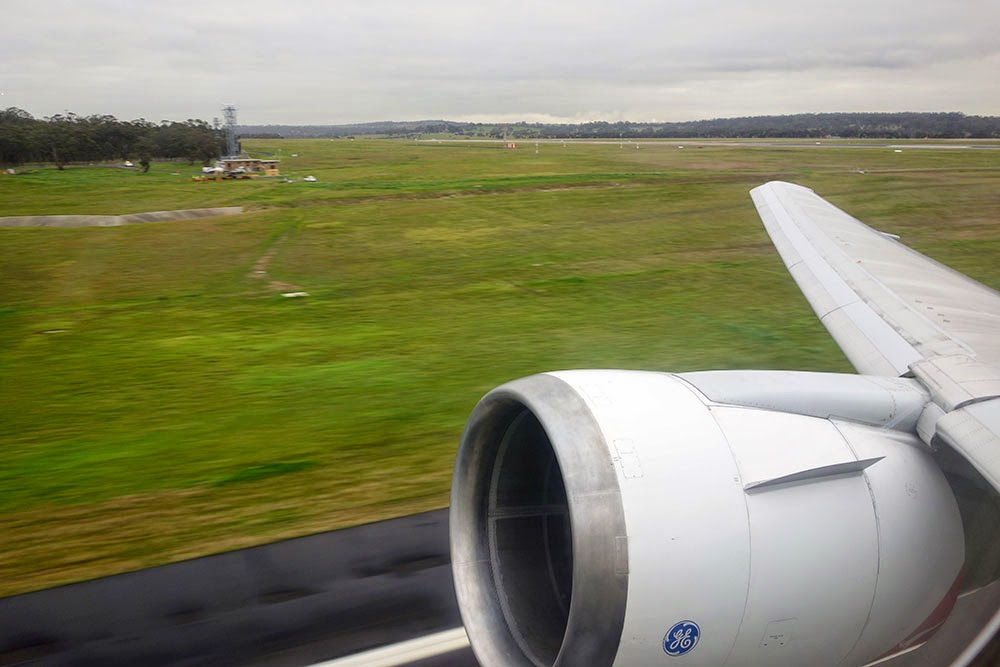 Up, up and away.

As we hit cruising altitude the curtain to separate the cabins was drawn as flight attendants sprung into life and handed out breakfast boxes which contained granola and yoghurt, a banana muffin and a bottle of water.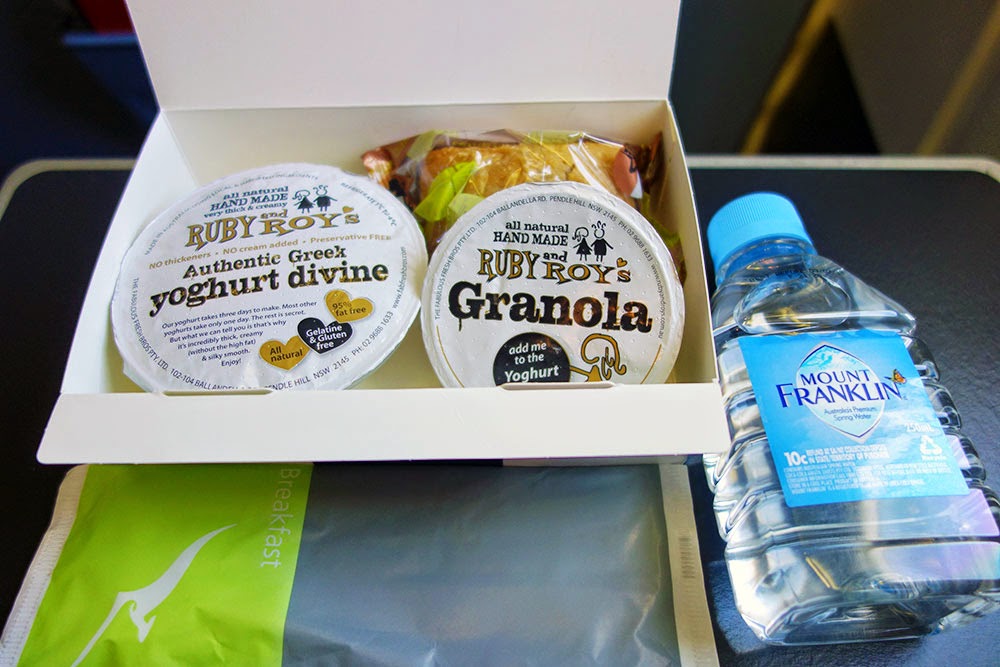 Pretty convenient way of doing breakfast.




Ten minutes later the captain made an announcement that we would be landing five minutes early so the crew began their landing preparations as I settled in my seat to catch up on the final minutes of sleep that I could until I was awoken by the roar of the engines as we made our way towards the domestic terminal. One flight down, a three hour layover and then a 14 hour flight to go.