Joined

Jul 4, 2002
Messages

28,520
Solutions

1
Points

4,040
We were limited really to places close to the Hilton due to mrsdrron's mobility problems.No problem as there are many good choices within 3-4 blocks.On Sunday night it was back to Rue 57.Not the greatest restaurant but reasonable quality and staying in the Hilton Club you get a 10% discount and you earn 3 AA miles for every dollar spent.We decided to have the seafood platter for 2 with 2 sorts of oysters,clams,mussels,shrimp and lobster-
.
Normally when we come here we have a Cloudy Bay sav blanc as it is priced at $60-just $10 more than more ordinary labels.But they had run out.So a Napa wine instead.With tip and tax-$150.
Monday night it was down to City Lobster on 49th.Again 10% off + 3 AA miles per dollar but we came for this-
.
We shared a bowl of mussels in a lobster broth with garlic,fennel and orange.Really nice.We both had one of those beauties and with a bottle of sav blanc +tax and tip-$210.
Today(Tuesday the conference was just a half day so it was a late lunch at our favourite NYC restaurant-Le Bernadin.3 Michelin stars for years.You do have to like seafood and cooked in classical French style which means at time barely cooked.But then we like sashimi.
So you start with a salmon pate which as usual was very good.For starters mrsdrron had sea scallops with a burnt butter dashi sauce and I had raw pounded tune over foie gras.Both were fantastic and we both thought the best dishes of the day-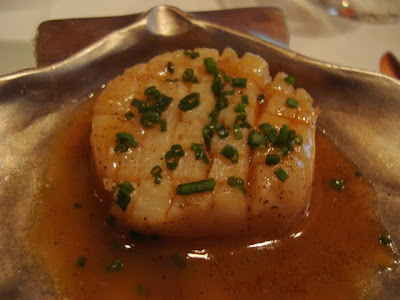 .
.
For mains mrsdrron had the barely cooked salmon with fava beans and a chervil sauce.I had striped bass on Bhutanese red rice with green papaya salad with a ginger and red wine sauce.As always all elements combined beautifully-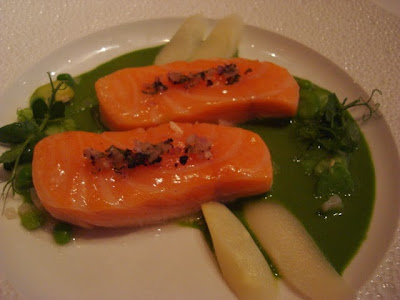 .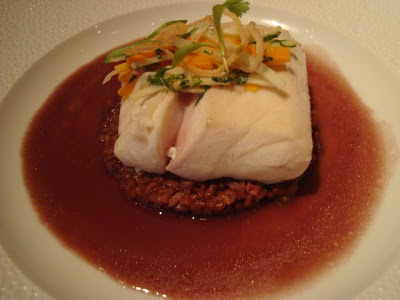 The top part of mrsdrron's salmon was truly melt in the mouth.Literally you put it in your mouth,let it sit and 30 seconds later only the bottom cooked fish remained.
Then to desserts mrsdrron had a Buddha's hand gelee with blood orange sorbet,mandarin and meringue.I had dark chocolate parfait with dulce deleche,milk sorbet,honeyed almonds and pistachios.The milk sorbet was divine-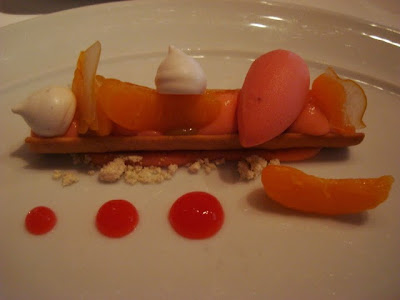 .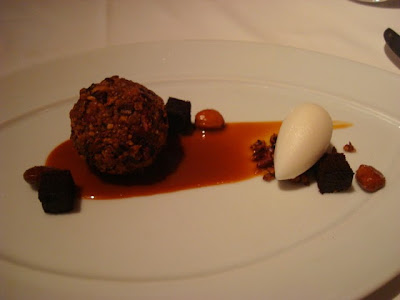 .
And finish with some petit fours-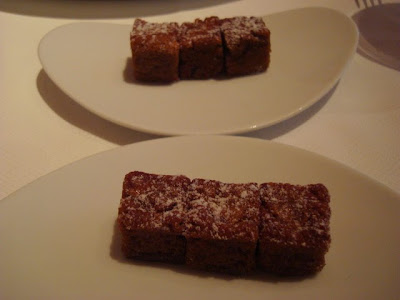 .
Once again with a bottle of sav blanc,tax and tip-$250 but sadly no discounts or airline miles.Still worth every cent.We come here every time we come to NYC.We worked out that this trip brings us to 9 months of stays here.
Now Le Bernadin is on 51st but an avenue you may not know exists-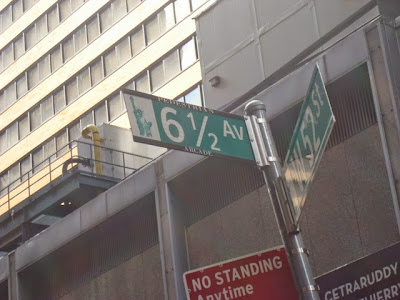 .
So tomorrow it is on our way to New England.Really though this is a factory outlet run-Woodbury Common,Manchester,VT which is an upmarket collection of outlets.Merrimack,NH because it is a tax free state.Then on to Kittery MN,Wrentham MA and Clinton Crossing CT before returning to JFK.