Joined

Jan 10, 2010
Posts

439
So this is a trip report following my first international trip since March 2020, starting on 1st November 2021. On this trip I fly from Melbourne to Sydney, then onto LA, Las Vegas, Orlando (via Austin), LA (via Dallas), Sydney then home to Melbourne. This is my first International flight since landing back from Singapore in March 2020. I was then on the first plane to land that required 14 days home quarantine (without any notice), so getting a chance to travel quarantine free is a real buzz.

Pre-Departure:
In the past, you would book your flight, check your entry visa requirements (USA would be just an ETSA) and off to the airport. In this new COVID era, planning becomes more important. Firstly, you have to be fully vaccinated and have your International Vaccine Certificate. Mine is saved on the Medicare Express App, but I needed it printed up too.
Then I had to have a COVID PCR test within 3 days of travel, so that for me was the Saturday before a Monday (1st November) flight. This again was the first real hurdle that can derail your trip. I had the test first thing Saturday, paid $150 for the honour, but had the result within 12 hours, so that was quick and a relief to get the 'green light'. I then printed that test result up.
On arrival to Melbourne Airport on the very first day of International travel resuming, there was plenty of confusion, but it was expected. Both my colleague and I missed that we needed to complete an 'attestation' before entering the USA (well Qantas thought we needed it, I'm still not sure). We completed a document at the check in desk and was told to have it ready on entry to the USA, but it was never asked for, or collected in any way.

The Journey Begins:
So we got through the hoops at Melbourne with all our documents cited and we were told in Sydney that the transfer system between Domestic and International has changed and to get a bus from outside Arrivals in Sydney. It turned out the first bus driver had no idea and after he returned to base, he told staff there that there were 20-30 people waiting for a bus, at which point he was sent to collect us, 30+ mins after we first arrived. This I'm sure will be working better now. In Sydney the stark reality of COVID era travel was clear, the airport was EMPTY, security and border control had no need to priority lanes etc, as you could walk in and be clear in a matter of minutes. All the shops were closed off, expect the main Duty Free Shop.
The Qantas First Class lounge normally a move exclusive domain of high status frequent flyers, is currently the sole Qantas lounge that is open, so I'm sure it's a buzz for those that don't normally get in. The menu is much more limited than normal, so snacks from the various stations like biscuits etc, but that's expected. I didn't check about the massage etc, but I'm not expecting that it was running. The calamari and the famous Pavlova in a glass were very much still on the menu and just as great as normal.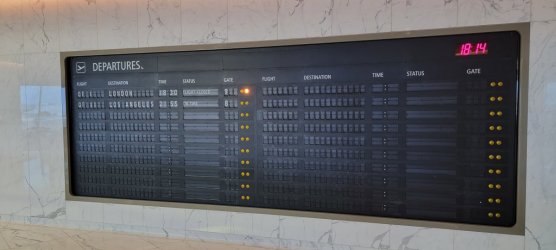 (Very Quiet Board Here in Sydney First Class Lounge)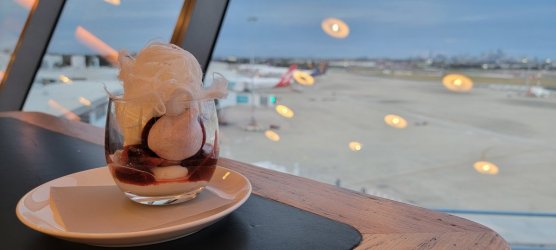 (Can't miss the Pavlova!)
One highlight was the take off of Qantas' first scheduled flight to London (via Darwin), the cheers from the lounge of staff and others gathered was great to see. We all haven't been able to travel, but most staff in that room weren't able to work, so the show of emotion was fantastic to see.
Boarding didn't quite go to plan, as it seems that somewhere either in Melbourne or Sydney we were supposed to be interviewed and a sticker on our passport. My colleague was the first taken aside after our boarding passes were scanned, and many followed us. We were initially quite rudely asked why was avoided the interview, until they all started to see a trend, that many were never given the chance to be interviewed. This took 5 mins, and we were on our way again. Just more little teething issues, that again, I'm sure are sorted now.
My upgrade had come through, so off to 1K I went! At this point we'd been wearing our mask for hours and hours, and it was made immediately clear to everyone that for the full flight, masks were needed and it would be checked, constantly. No issue with this as a concept, but in reality, it's a real challenge, but I'll touch on that later.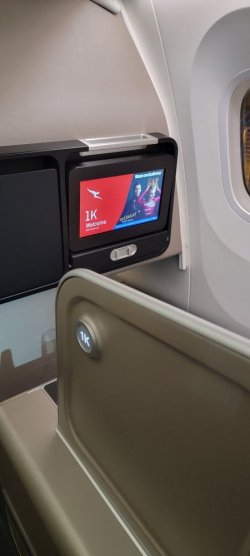 (Vey Glad the upgrade came through)
Onboard, everything felt normal for the most part. The crew were fantastic, the seats comfy, but the real difference was departure time. We were leaving at night, and arriving at night, certainly different feeling, particularly arriving when it's dark into LA.
Into the USA:
Expecting the worst (long lines, onerous review of documents etc) we braced ourselves for an ordeal that never eventuated. Admittingly my APEC card was a blessing. We were in an out in 20 mins from landing and looking for a hotel bus. Other than our passport, we just had to show our vaccination certificate and negative test, and that's it. It did take another 30 mins for the Sheraton Bus to arrive, but still a quick transit.
I'd booked into the Sheraton Gateway, and it was a pleasant enough hotel. Being Titanium with Marriott, both myself and my colleague were upgraded to a suite each, but with as leaving at 5am the next morning, there really was little need. Bed and shower(not over a bath) were great, all I particularly care about in transit hotel.
The next morning we were back at LAX, checking in through the Priority lane thanks to my Emerald OW Status, but also as we were flying First Class to Las Vegas. Again straight up to a priority security lane and through in minutes.
Straight into the Admirals Club, and hoping to get into the 'Flagship' lounge, but it still hasn't reopened. Talk to the staff is when I realised that despite our media talking about life returning to normal in the USA, and airports seemingly busy, the truth is a lot of people are just not flying yet. The lounge was busy, but nothing excessive, albeit it was 6am. Food selection was limited, but good enough for a standard USA lounge. Mask rules were strictly enforced when not eating or drinking, we saw a number of people politely reminded to mask up.
Onto Vegas, quick uneventful A321 flight, as expected. Las Vegas airport was fairly quiet, which was surprising with two big exhibitions in town, starting that morning. No queue for a taxi, and off to Mirage Hotel.
Las Vegas – Still Sleepy
Mirage is a dated hotel but a good location for our needs. What was interesting was that half the restaurants in the hotel were closed, and that is with the big Expo's in town. It turns out that getting staff back into Las Vegas is causing issues for venues to re-open.
The expo's themselves had massive cancellation issues, had strict mask rules and one needed proof of vaccination or a negative test to get in. This kept a lot of people away. Numbers were about half compared to 2019, but still plenty busy enough. Mask rules were loosely enforced, but compliance sat at around 80% anyway.
At night is when it became clear that Las Vegas has a long way to return to it's past 'glories'. Strict density limits in restaurants, and a lack of staff made dining a challenge. If they were even open, many restaurants closed before 10pm, and number of bars were shut by 11pm, very unlike Las Vegas of 2019 or before. Casinos kept going all night long, but it really felt different.
Mask compliance in LA and Las Vegas was exception indoors, with 90%+ compliance, again a surprise based on media over here talking about the outbreaks and poor acceptance of the rules. More on that at the end.
Off to Orlando and quick status run:
Since we had the opportunity to have a meeting in Orlando, we took the opportunity for a Status Run. Why flying direct, when you can connect…
We flew first class from Las Vegas, to Orlando, via Austin. Both flights were 2.5 hours. The Austin Admirals lounge is very small and simple, but did the job, just. We had a couple of hours to kill in Austin, but not enough time to get out of the Airport.
Landing in Orlando, my colleague and I set off to collect the rental car, and which point I found I'd lost my actual drivers license somewhere in Las Vegas… I'd like to say it was lost in a bar late at night, or on a zip-line to somewhere, but I think I lost it on checking-in to one of the trade shows we visited.
Stayed at the Marriott World Centre. Got upgraded to a Deluxe Room overlooking the pool. It was about 16 Degrees Celsius and raining on arrival, so pool was not a priority.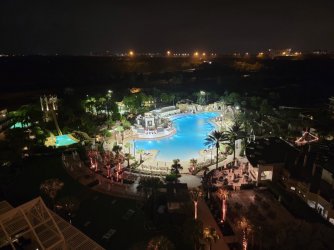 (True room with view)
Saturday was meetings, but on Sunday I got to visit by first Disney property, and went to Disney World – Hollywood Studios. Crowds were seemingly big, but according to staff it was about ½ as busy as normal. The Star Wars rides, and general design elements were definitely the highlight. Being a rollercoaster lover, the Rocking Rollercoaster (paying tribute to the Rolling Stones) was fantastic too.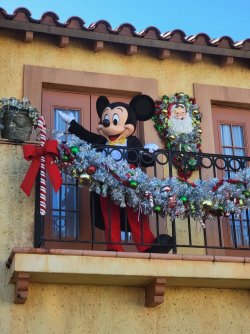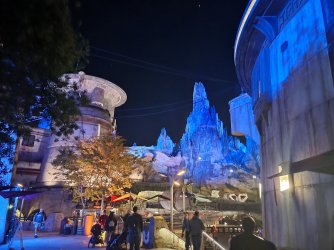 (Some random Disney World Images)
Back to LA:
Got to Orlando Airport 2.5 hours early and that we fortunate as security had no priority lanes and it took nearly an hour from the start to the end of the line. The MCO Admirals Club was right next to the gate, so that worked well. It was full with very few seats available.
I chose to fly via DFW on the way back, specifically to try the 787 from DFW to LAX in Business Class. Having flown QF on the way over this was a good chance to compare their hard products. I much prefer the AA Business Class on the 787, but both are excellent. Plenty of storage, and a really functional design for everything else.
Arriving in LA on Monday night and leaving Wednesday, we decided to get our pre-departure COVID test the following morning. We found a clinic near the Marriott Marina Del Ray and paid $160 USD for a test with a result within 12 hours. We ended up getting it 48 minutes later… The negative test was a relief, but I'll discuss that at the end.
I'd booked into the Marriott Marina Del Ray, and location wise it's decent, but everything is a short Uber ride away. The hotel is under huge renovations, and I'd suggest leaving it off your list until it's done. For the price I expected much more, but based on the work they are doing, maybe they will get there.
Meetings and last minute shopping filled the rest of the trip.
Checking in at LAX was simple and quick, just checked all our documents, and off to the lounge. With the OneWorld lounge still closed, we got into the Star Alliance Lounge and it was nice, with a good array of buffet food and great showers. Couldn't fault the lounge and like Orlando, it was full.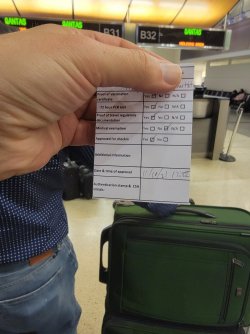 (Pre Check-In Check of everything needed)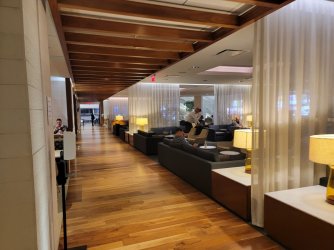 (Star Alliance Lounge)
As with the flight over, I was fortunate to be able get an upgrade to Business and so after a quick bite, I was off to sleep.
Landing in Sydney was simple enough until we had to transit to domestic. The 'Old' Qantas Transit desks are now a Vaccination Clinic and you have to wait for a bus and check in over at Domestic. So we had to get our bags onto a coach and unload them when we got over to domestic. I'm sure this is just temporary but it was fairly disorganised when I went through.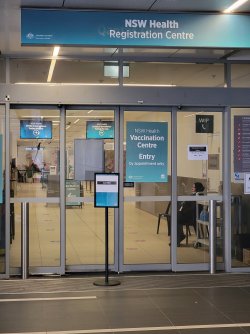 (Former Qantas Transit Area - Now a Vaccination Clinic)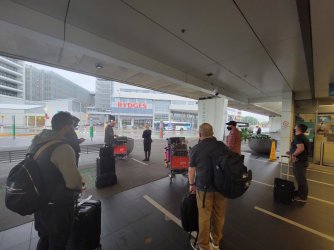 ('New' Transit system - Waiting for coaches)
The rest of the trip was simple enough, landed in Melbourne, then went straight to a drive-through COVID testing clinic, then home until I get my negative result. I was then free to roam, and 5 days later, another test and I was then free and clear.
General Thoughts:
To start I need to be fair in acknowledging that my flight from Sydney was only the 2nd Qantas scheduled international flight (without restrictions etc) in 20 months, so things were always not going to work to plan. All the ground staff, crew etc were outstanding and couldn't have been more helpful.
The process of needing constant COVID tests was probably the most challenging part of the trip. Firstly they are expensive. Paying $150 AUD per person in Australia before you leave would be a major disincentive for families looking to holiday. Fortunately once home, the tests are covered by Medicare. The bigger issue is the psychological element of always knowing you'll need a negative test just to get one a plane to get home. You can rationalise all you like about regular hand cleaning, face masks always in use indoors etc, but it still plays on your mind. If you test positive while away, different countries will treat you differently, but one thing you can be sure of is that you won't be getting home anytime soon. This is causing me to reconsider additional flights at this time, particularly into Asia where it's common to be taken to a 'COVID Hospital' if a traveller is found to have the virus.
The other challenge was mask wearing. This is not a comment on the validity of masks, enough data shows it can help, so let's get that clear first. But wearing it for 20+ hours is unpleasant at best. Qantas police it regularly, however I believe some other airlines are a little more relaxed about it. I like the concept, it's not hot, sweaty and uncomfortable for long haul flying.
My last point relates to COVID mask compliance in the USA. If we just believe the Australian media we'd think that most of the USA is ignoring most measure to counter COVID, and that masks are a rarity. I would say that compliance in LA, Vegas and even Orlando was better than anything I see in Victoria.
So I loved the overall experience of getting out again and I can't wait for travel to again start to feel like it once did, but until then, flights are back in the air, but travel for leisure feels a fair way away.
Ask any questions, happy to answer them.