The time has come for MrsDaver6 and I to head off on another adventure. We start on 28th October and will be on the road for four weeks. I'll do so pre-trip posts with details and planning for those who are interested. During the trip I'll try post a bit, likely to be mainly photos.
We started planning this trip ages ago. I have a bunch of HH points to blow and we decided Conrad Maldives was the way to go. The plan was to also fly on a 280k J OWA so we obviously needed to visits some other places. And so we decided on a cruise up the Norwegian coast would be in order. We decided we'd stop by London to visit friends and family and Bavaria to visit family.
In late January we enlisted the assistance of the AFF Award Flight Assistant service. This was money well spent! We did our own research on the cruises and decided we were going with Hurtigruten. We had narrowed down the list of their ships we'd be happy to go on and our preferred dates. This gave us specific dates we needed to fly in and out of Bergen (BGO). We also knew was wanted 6 nights in the Maldives. We had some flexibility with how long we'd be in London/Bavaria and flexible about the order (although did have a preference). With all this info provided to the Award Flight Assistance person assigned to us, we were presented with options. In the end our flights path looks like this.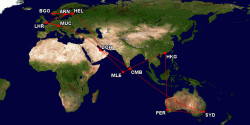 with the flights as follows, all in J unless otherwise specified:
PER - SYD QF (overnight but only a transit)
SYD - DOH - HEL QR (stop)
HEL - ARN - BGO SK Y (seperate booking, will explain later)
BGO - LHR - HEL AY (stop)
LHR - MUC BA (stop)
MUC - LHR BA - DOH - MLE QR (stop)
MLE - CMB UL (Y) - HKG - PER CX
The QR flights from SYD - DOH and LHR - DOH were specifically chosen Q-suites. As a bonus the DOH - MLE flight has also been upgraded to Q-suites. MLE - CMB only had Y availability, but should be able to slum it for just over an hour.
Originally we were meant to fly on AY from HEL - BGO. This is the only OW flight into BGO each day. Unfortunately about a week after booking, we were notified that the flight for that day had been cancelled. AY and QF were not interested in putting us on another carrier to get us there. Flying the next day was not an option as literally, our ship would have sailed. We were offered a refund (which really was just taxes). Not sure how, but that turned out to be fairly significant.
Thankfully we arrive in HEL first thing in the morning and only need to be in BGO by the evening. I used one of my Amex travel credits to book us flights on SK to BGO via ARN. Again for short flights, Y would suffice. Turns out with the generous tax refund and using the Amex travel credit, we came out ahead.