As you will know our
Terms of Service (TOS)
specifically prohibited the posting of any commercial messages.
Well today, I'm now announcing a
single
exception to this long-standing AFF guideline: Any AFF member now has the option to "sponsor" a thread. For a small fee (from $25) you can create a thread to promote your (or your company's) goods and services. These threads are permitted in most forums and will be clearly marked as "Sponsored". You will also have the option to make the thread "sticky" so that it appears near the top of the forum.
To access this feature:
1. Go to "Account Details" page by clicking on your user name (see A in image below), and then "Account Details" (see B in image below)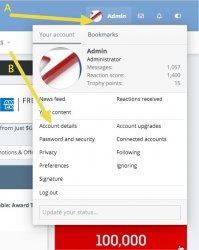 2. Once on your "Account Details" page, look for the "Ads Manager" block on the left near the bottom of the page (see image below)

Here you will see the various packages available - currently "Sponsored Thread" only, but this may change in the future. Follow the instructions to create your ad. Once submitted it will need to be approved by the admin team. Once approved you will be sent an invoice which you can pay with Paypal. And then once paid, your "Sponsored Thread" will be live on AFF!
Please note the specific
Terms and Conditions
associated with our paid advertisements.
Feel free to message me (or email
admin@australianfrequentflyer.com.au
) if you have any questions.
Hope you find this new feature useful.