Is there a way you can tell how many points you received in a particular transaction??

I shopped at 7-11 on fuel & wandering if I received the 10x points (I understand it was an "in-store" promo & possibly excluding fuel purchase)
Same deal for the 3x points Small Shop, how do you know your really getting the points.

I couldn't keep track of the points tally as obviously it moves each day you transact.
Statement only shows transaction & $$ value.

Not overly fussed, more interested than anything.

Thanks in advance.
EDIT: POSSIBLY REFERRING TO THE WRONG PROMOTION
You won't get the bonus on fuel.
I filled up and bought a slurpie the other day. Showed up as this on my velocity statement: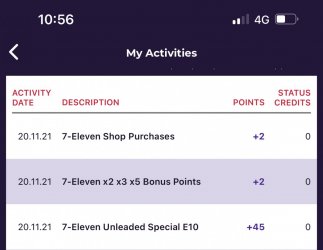 2x points on the $1 slurpie. 1x points on the fuel.
EDIT: POSSIBLY REFERRING TO THE WRONG PROMOTION
Last edited: