Joined

Aug 21, 2011
Messages

10,826
Solutions

14
Points

1,335
This week I had an opportunity to travel on the overnight XPT train from Melbourne to Sydney. I often travel by train between Canberra and Sydney, but would normally fly between Melbourne and Sydney. Just once, though, I wanted to try out the train and in this case taking the train was a fairly efficient use of my time. It leaves from Melbourne's Southern Cross station at 7.50pm, arriving at Sydney Central station at 6.58am the next morning. Although the trip takes 11 hours, I slept for around half that time.
I finished work in Melbourne's CBD at 7pm and made it to Southern Cross station with plenty of time to spare before the 7.50pm departure. No need to worry about the SkyBus, getting stuck in traffic on the Tullamarine Freeway or checking in at the airport an hour early!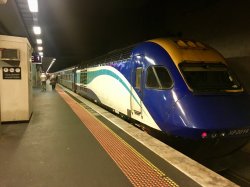 For the overnight journey I had booked a sleeping berth. There is one sleeper car on the XPT train with 9 sleeping compartments. Each compartment has bunk beds that can sleep up to two people. During the day the beds fold up to create three seats per private compartment.
This is what the compartment looks like during the day: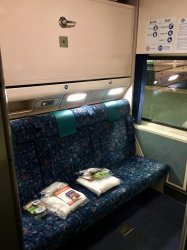 The sleeper can be booked for an $88 supplement on top of the full first class fare. The full adult fare from Melbourne to Sydney in a sleeper is $216.30. In my case, however, I have a premium travel pass that comes with unlimited first class train travel and just paid the $88 supplement. It was absolutely worth the extra money.
I shared a compartment with a Kiwi bloke on the first leg of an epic journey from Melbourne to London by train. (From Sydney he was going to take the Indian Pacific across to Perth, then catch a boat to Singapore. The rest of the trip to London would all be by train and take around 3 months!)
Upon boarding there was a towel, amenity kit and snack box on the seat. The amenity kit included things like shampoo, ear plugs and a toothbrush - but not an eye shade.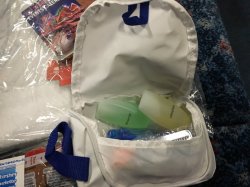 These are all included with the sleeper fare, along with complimentary breakfast in the morning. Before we left an attendant came around to introduce himself, give some information about the journey and ask if we'd like to be woken up for breakfast.
There is no wi-fi and the regular seats don't have any power outlets, so it's BYO entertainment! If you get really bored, you can buy a newspaper or magazine. The sleeping compartments did at least have a power point.
We left on time at 7.50pm and started rolling towards Sydney. Shortly after departure another attendant came past to ask if we'd like a hot meal for dinner. This wasn't included in the fare but only cost $9.50. There were four meal choices; I chose the vegetarian curry, which was OK.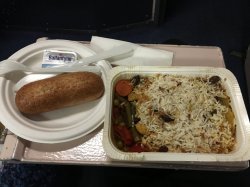 There is a "buffet" car selling snacks and drinks (including beer and wine) which was open all night.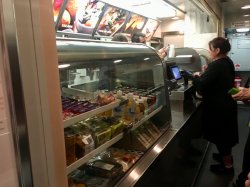 After the dinner service concluded, an announcement was made that the lights would shortly switched off for the night. I was worried that we would be woken up by announcements at every station, but this was not the case. This was the last announcement until we arrived at Campbelltown around 6am the next morning. The conductor made a big point about asking everyone to stay in their allocated seats because they would be waking people up around five minutes before the train reached their stop. They also said that sleeping on the floor is not allowed.
At this point we pressed the call button for the conductor to convert our seat into beds. Sheets, pillows and a doona were provided.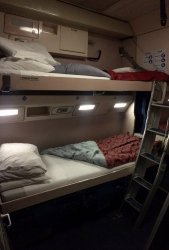 The bed was a little firm but otherwise fine and it was long enough to stretch out comfortably. The compartment was, however, very warm all night. They really could have turned the heating down a notch.
I slept reasonably well but did wake up a few times during the night. The train rocks a bit and it does get quite noisy, so bring earplugs or noise-cancelling headphones. You can draw the curtains for privacy and to block out external light.
I definitely slept way better in the sleeper than I could have in one of the regular first class or economy seats. This was the first class carriage: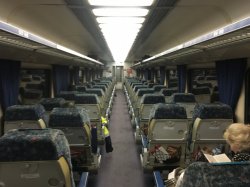 There was one toilet/shower for every 4 passengers: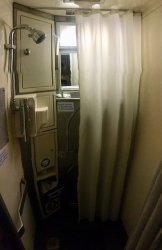 The toilet and sink both folded away so you could take a shower if you wanted to. I did have a shower in the morning… it wasn't luxurious by any means, but the water was hot and I felt refreshed afterwards. A much more modern toilet (and drinking water) was available at the end of the carriage.
I elected to skip breakfast but I'm told it consisted of cereal, toast and coffee. I was happy to get an extra half hour of sleep instead.
We arrived in Sydney on time at 6.58am the next morning. I felt like I'd had a decent night's sleep and was able to function well throughout the day.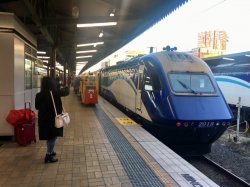 So that's what it's like to take the overnight train from Melbourne to Sydney! Would I do it again? Actually, yes. But only in the sleeper car.
It's a fairly time-efficient way to travel between Sydney and Melbourne while avoiding paying for a hotel room. You don't waste time travelling to and waiting at airports, and if you're travelling to/from an intermediate station (e.g. Moss Vale) the train makes even more sense. That said, this isn't for everyone. If you're a light sleeper you may find it difficult to sleep, and ultimately the trip does take 11 hours when a plane will get you there in 90 minutes.
Last edited: