Hi AFF gurus.
I've searched high and low for days now, and I just can't find my passport. Currently the federal passport department is on reduced service from the 24th of December till the 3rd of January inclusive.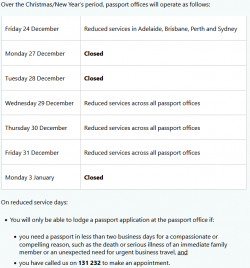 So, I'm wondering if you would think there's any point in reporting it lost until then? Passports that are reported lost will be cancelled, and unable to be used ever again. So if I do find it, I'll be out of luck with getting the passport to work. But, I might be able to refund the lost passport fee with a special form. Also, if the passport office is closed/reduced service, then I don't think any kind of advance will be made on getting me a new one.
Also, I couldn't find out how long it might take to get a replacement passport. I want to travel in mid January, and I'm not confident to book it yet due to my situation.
Thanks for your help.