We were due to be in Berlin for a family reunion in August. As we will obviously not be able to attend even if it, fairly unlikely, goes ahead I have been looking sadly at photos of our previous German visits. Being another who likes to read the TR section and hopes that it keeps going I am now going to add one covering our 2013 trip. While we did go to some fairly often visited cities we also went to a lot of smaller places that I firmly believe very few others on AFF have visited or even heard about.
We flew into Paris after a few days in Singapore.I will not post any Singapore photos as they contain nothing new.
We arrived at CDG and picked up our leased Renault. This was the second time that we have used the French Tax Free Short Term Lease programme to lease a brand new Renault. We have found that once the length of vehicle lease gets above about 20 days it becomes markedly cheaper than normal car hire. Full comprehensive insurance for all drivers and roadside assistance is part of the deal.
We booked a Clio but got a "free" upgrade to a Captur without about 5km on the clock. This model had only been released a couple of weeks before hand and most people had never seen one before and we never saw another one in the next 4 weeks. The only problem we had was that when we went to get our
Umweltplakette
(German emissions sticker) from a German Licensing Station the car was not even in their database. However, unlike the stereotype about German bureaucracy, they simply laughed and gave us a sticker as the same diesel engine was in the Clio. It had a 1.4 litre turbo diesel and we averaged under 5L/100km so it was very economical.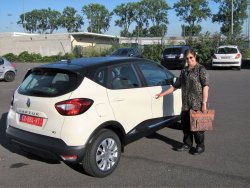 (You will notice the "special" red tax free number plates. These apparently cause some problems in Southern Europe as they apparently attract thieves and scammers.)
For our first night we only traveled about 90 minutes to Reims to recover from the overnight plane trip. We stopped overnight at an extremely cheap B&B Hotel on the outskirts of the city. Next to the TGV Station and only about 1km off the Autoroute. There was a tram connection to the centre of town right outside the front door of the hotel. The tram system was only a couple of years old at that time. In the historic centre of Rheims the overhead power lines disappear and it runs off induction from buried cables. This keeps visual pollution down exceedingly well. I gather something similar is is used in the new Sydney light rail network.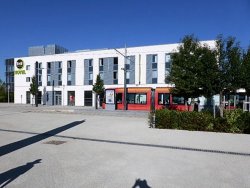 One of the highlights of the few hours we spent in Reims was the 13th Century Gothic Cathedral which is bigger than Chartres. It used to be the traditional place of coronation for French Kings including that of Charles V11 in 1429 in the presence of Joan of Arc. We spent a lot of the afternoon sitting at a traditional sidewalk cafe at the back of the Cathedral in the Place Martys de la Resistance drinking and eating local foods. It was a wonderful re-introduction to Europe.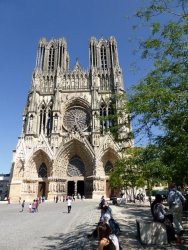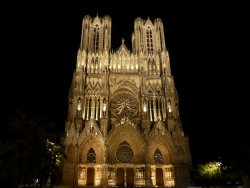 Some of the windows suffered war damage and new ones were designed by Marc Chagall.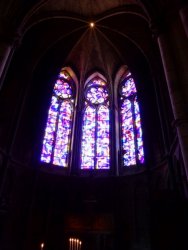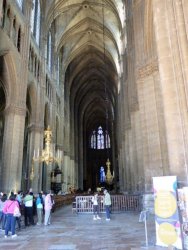 The Hôtel de ville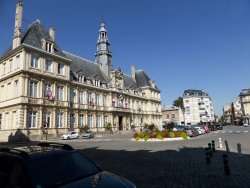 An
Art Nouveau
theatre facade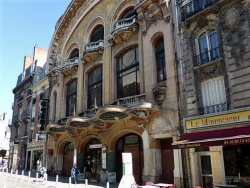 There were quite a few Roman ruins in the city