Joined

Nov 17, 2004
Messages

3,210
Points

845
Same as everyone we have been going a bit stir crazy at home, but we appreciate that we have had minimal disruption to our retired life in regional NSW. It is 11 years since our last trip in a motorhome but circumstances led us to look at the possibilities. We have some flights available via an ANZ credit card, some Amex travel credit and use of some good deals at Meriton. Our previous times in South Australia have been mainly spent in Adelaide other than the time we travelled Adelaide/Darwin.
Sydney/Adelaide flights were booked last November and the motorhome was booked via Motorhome Republic last Dec. The Sydney hotel was booked in April of this year. Flights (we had separate bookings Syd/Adelaide) had a change for each direction but the border issues didn't end up having any impact on us.
This is a rough map of our route- we ended up covering just over 1,500km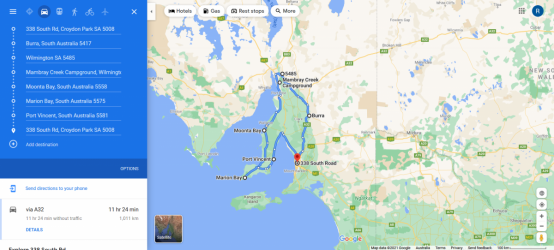 PQQ-SYD ZL6363
Port Macquarie hasn't been seeing any discounting happening on flights. With a difference of $60 odd each for the flight we were happy enough to go Rex for the first time. May 3rd happened to be the day that Sydney had morning fog and smoke trapped from burnoffs. Both Qantas and Rex flights were impacted. There were only 8 arrivals on the flight coming up from SYD and we were part of only 13 flying to SYD. Once onboard we were given a very clear explanation of the delays and enjoyed a smooth flight. The plane was oldish but I didn't particularly notice a different noise level to the Dash 8 of Qantas. This flight is less than an hour and the service is very similar- a Kez's Kitchen bickie rather than a Byron Bay muffin! Another hardish landing (all 3 flights since covid started have been the same) and a very quick bag collection and we were soon waiting for 5 minutes for the next train into the CBD. From Central it was a very short walk to the Meriton Campbell St.
We had arranged to meet mates from Thirroul for lunch-it ended up being very late. We are happy to eat at pub bistros and the Chamberlain Hotel was in the next block to the Meriton had good reviews for their food and drinks- just so happened that after it was planned, we found Chamberlain took Amex and qualified for the Shop Small and Delicious Month promotions. We also made our first use of the light rail down George St (impressed by the service) and visited the Fortune of War pub for a drink. We were back at the Chamberlain for dinner and tried the Asian side of the menu-again very good pub grub.
The Rex Offering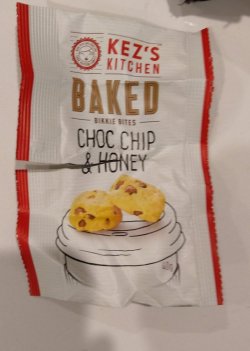 Not much left over from dinner