Joined

Aug 1, 2010
Messages

2,645
Points

980
I and others have often mentioned Fremantle on here but I realised that there have only been a few photos of the port. Today my wife was going to look at an Art Exhibition down there so I took the chance to spend a couple of hours wandering around. I first became closely acquainted with Fremantle when I joined Customs in 1972 From then until my retirement in 2009 I worked in Fremantle for close to 30 years.
My first office. Customs occupied this building from 1907 to 1986. We moved into a 'new' building in time for the America's Cup Defence starting that year. As an aside this building was actually labelled as Custom House and not Customs House.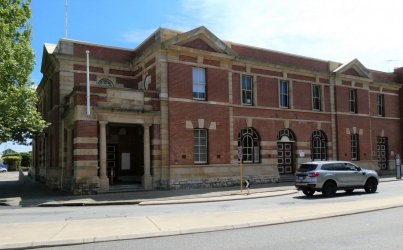 My second office. A new building was built inside the façade of an old Chain and Rope warehouse. The building was sold off a year or so ago and is mostly occupied by the The University of Notre Dame Australia - a name that will re-occur a lot in these photos as their campus is spread all across Fremantle. The main Border Force Building is now in Perth.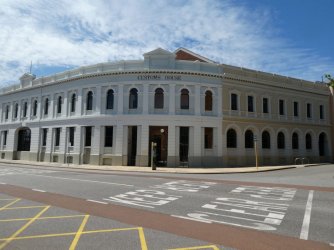 An older Customs House that was occupied from 1879 - 1903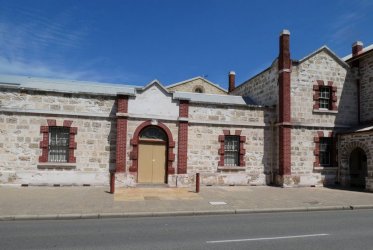 The Shipwrecks Museum ( I assume the Giant Squid dragged them down into the depths) - part of the W.A Museum and formerly the Commissariat Building. Relics from the various Dutch East India Ships are displayed here - amongst other exhibits. It is one of many convict built buildings in Fremantle.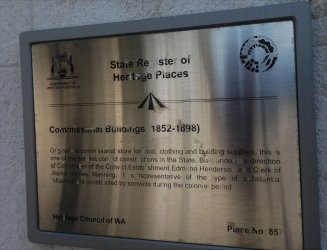 The Round House the oldest building standing in W.A. The tunnel underneath is the Whalers Tunnel dug in 1837 to enable access to the beach on the other side of the hill for the whalers. The red building on the right of the picture is the old Fremantle Tram Depot. You will notice that the Round House is not actually round. Also by now you may have noticed the substantial use of local limestone in many of the more historic buildings in Fremantle.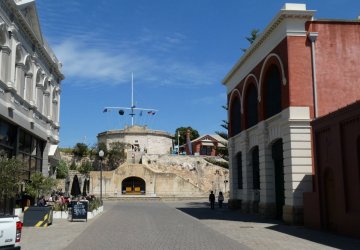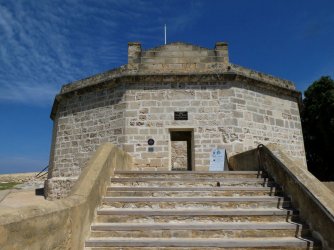 The time gun is fired at 1:00 PM every day. The small Island slightly to the right of the line of fire is The Stragglers reef and the larger one to the left is Carnac - home to Tiger Snakes and Sea Lions.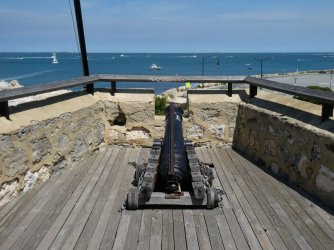 Looking out towards Rottnest Island - 18 km offshore