Easter Island/Rapa Nui - mythical, magical and mysterious. Those colossal stone heads poking out of a sparse terrain had intrigued me for years ever since I saw a National Geographic documentary. As I travelled and explored other parts of the world Easter Island was always there in the back of my mind calling me. I would think about the distant island for a while and then file it away as too hard, too far, too expensive.
All of that changed as I flew into Santiago with Iberia on the second last leg of a Qantas One World 140,00k award flight. All of my previous travels had allowed me to gather enough points to at least get to the start point for my Rapa Nui adventure.
I flew out of Santiago on a once a day LATAM 787 with a flight time to Easter Island of almost six hours to an island that is considered one of the most remote inhabited places on the planet.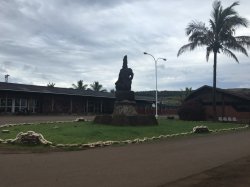 Mataveri International Airport Rapa Nui
It appeared that most of my fellow passengers were Chilean and returning Easter Islanders with a sprinkling of international passengers. Around 80,000 tourists visit the island each year and even though tourism is Easter Islands biggest employer many locals fear that the island cannot continue to sustain current tourism number let alone an increase in tourism. It was with a great deal of anticipation when my flight touched down at the small Mataveri International Airport.
There isn't a wealth of accommodation on Rapa Nui especially if you are on a budget. I looked on both Booking.Com and Airbnb and decided to go with a booking that was listed on both Cabañas Christophe hosted Christophe and his family. On my arrival, Christophe was there to meet and greet me with a beautiful flower lei and a firm handshake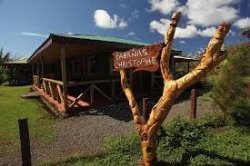 ​
As Easter Island is part of Chile, there are no passport formalities to complete so soon we were soon on our way. Christophe drove me around the town Hanga Roa which is the only town on Rapa Nui. He showed me everything I may need or want to do as well as recommending restaurants, cafes, and places to shop.​
On arrival at the cabanas, I was met by other members of Christophe's family and warmly greeted. The cabanas consisted of six units which were all fully self-contained. Some were family sized while I had just a single room, the furnishing was more than adequate, and the bed was large and comfortable. Breakfast is included Christophe would deliver it to my room each morning - some freshly baked rolls, cold meat, cheese and yoghurt.
When I made the reservation, I also hired one of Christophe's vehicles a neat little Suzuki Jimny all-terrain vehicle. Your transportation choices are limited on the island. If you are part of a tour or if you book a tour you will be driven to all of the sights on the island. You can also hire a taxi which is rather cheap or walk. That said walking won't get you to where you want to go as all of the island's attractions are some distance from Hanga Roa.
As it was late in the afternoon when I arrived, I decided to explore the local area by foot. Just cross from Christophe is also the beginning of the hiking trail which heads uphill to Rano Kau and Orongo, a 45-60 minute hike. I put that aside for another day. I could hear the sound of waves crashing on rocks and just a short distance away I stood on a headland with nothing but a vast ocean ahead of me. Huge, rolling waves thundered against the rocks below throwing up seaspray that created tiny rainbows that shimmered in the late afternoon sunshine. Standing there was one of those travel moments where you wonder about nature and the world around us.
I decided to walk rather than drive into town something that took me around twenty minutes. Traffic, as you would imagine, is light and walking gave me an opportunity to explore more thoroughly and check out the shops on the main street of the only town on Easter Island called Hanga Roa.
The main street is rag-tag with souvenir shops mixed in with restaurants and cafes as well as stores serving the local community. None are large or beyond two stories, and I walked the main street in less than 10 minutes. I chose a restaurant overlooking a bay and watched some hardy surfers riding large foaming waves. It was an idyllic scene to accompany a delicious fresh seafood meal.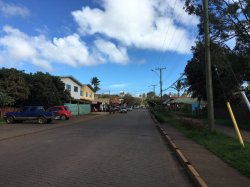 Main street Hanga Roa - Easter Island
I walked back to the cabanas satisfied and sated. As I lay in bed, I could hear the sound of the waves smashing against the well-worn rocks. I nodded off to sleep with a contented smile on my face.
Next morning after devouring a delicious breakfast I set off to explore in my Jimmy. I had read that wild horses were a problem on the island. Estimates vary from 3,000 to 6,000 horses. Considering the human population of Easter Island is 6,000 the upper estimate would mean there are as many horses as there are people on the island. Unfortunately, these animals damage an already fragile environment as well as rubbing up against the stone statues causing further damage. There is also a safety issue as well as the horses tend to wander onto the road and travel along the roads of the island at will so when driving, you have to keep a sharp lookout for our four-legged friends.
Easter Island is around 25 kilometres long and 12 kilometres in width at its widest point. The roads are in reasonably good condition, and driving is smooth and easy. The destination on my first day was Anakena which is roughly in the middle of the island on the northern side.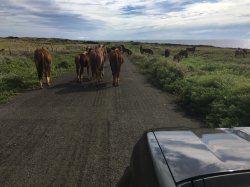 ​
Peak hour traffic jam Easter Island
I parked the car in the parking bay and headed down to a sandy beach one of only two beaches on the island and the place where the first arrivals first stepped ashore. It was here that I first set my gaze upon the incredible stone statues known as Moai. I stood still for some time in the realisation that I had finally made it. It was real and not something that I had seen on television or read about. Travel has moments like this where you almost have to pinch yourself to ensure that what lay before you is real and not a dream. This was such a moment.
What amazed me was that I was the only person in the area and this would stay pretty much the same for the duration of my visit. Regularly I was the only person or amongst just a few at these incredible sites. The statues at Anakena are eroded and not in great condition nevertheless it was a moment I treasured as an introduction to the Easter Island Moai.
Before my visit to Easter Island, I did not know too much about the Moai so I dived into the internet and read all I could. I also gathered a lot of useful information at each site I visited on the island as they all have information boards in English.
The Moai stand a majestic four metres in height and weigh around 14 tons. The Moai consist of more than just a head they also have a torso though that is usually buried underground which has led many people to believe the stone statues are heads alone. No one knows precisely why the Rapa Nui people undertook such a monumental task of building the Moai. Most scholars suspect that the moai were created to honour ancestors, chiefs, or other distinguished personages, however, no written and little oral history exists on the island, so it's impossible to be sure.
The island has been denuded of nearly all of the native trees, and it is suspected that most of the tree felling was a result of using tree trunks to roll the Moai's over vast distances to their final resting place. It is also surmised that tree felling was one of the main reasons the Rapa Nui people were almost wiped out.
Something that caught me by surprise was that all the Moai's except for a few face inland and not out to sea as I suspected. Even those placed on the coast face inland. I paid a visit to Ahu Akivi where seven sombre Moai on a stone platform called an Ahu face out to sea. No one knows for sure why these Moai out of many hundred are the only ones that face seaward.
Anakena Beach Moai facing inland