Joined

Jan 21, 2011
Messages

4,461
Points

845
Qantas

Bronze
Virgin

Platinum
Toowoomba is a city located about 90-120 minutes drive West of Brisbane and sits at the top of the Great Dividing Range. Their weather is less humid and usually not as hot as Brisbane. At an altitude of 700m or 2300 ft. they can grow quite a different range of flowers to Brisbane.
Compared to the rest of Qld it has very cold winters and it has snowed there. The last time it snowed was 1984 and previously about 20 years before that.
After the difficult years of WW2 they decided the area needed an economic and morale boost. In 1949 they launched a Flower Festival with a parade and park displays. It was a huge success and they have held their Carnival of Flowers annually ever since.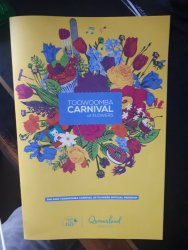 Covid-19 caused some cancellations and modifications to the Festival but we decided to drive up on Monday and have a look.
Only 2 of several private gardens were available for display and they required Covid safe procedures. Sign the book, hand sanitiser, social distancing etc.