Joined

Jul 4, 2002
Messages

28,880
Solutions

2
Points

4,040
16 days and we are off again.First on QF BNE-SYD-NRT.A JASA booked before March and all the fuss.A bit of fun when booking it as we are flying into SYD at 1200 and leaving on QF21 at 2130.The agent was adamant that he could get us onto a later flight into SYD but I politely declined.As long as we are checked through it will be a nice long Flounge visit.Got to enjoy it while we can.
From NRT it is a JR railpass with a stop at Sendai and the westin before continuing on to Shin Sapporo helping the Sheraton celebrate it's last couple of weeks with SPG.Finally on to Otaru where we board the Silver Explorer to Fiji via GUM.
Now the Explorer is currently making it's way through the North West Passage.It's first voyage there.In 2012 the route was virtually ice free and so Silverseas were confident global warming would ensure a passage in 2014 was incident free.Then today this image appeared on the internet-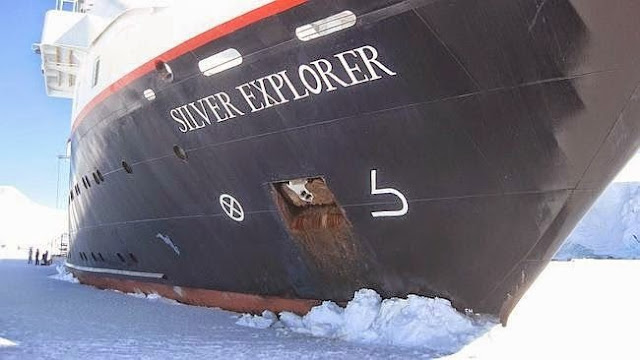 .
It was in this blog-
Northwest Passage 2014: M/V SILVER EXPLORER stuck in Northwest Passage ice escorted by Canadian Coast Guard icebreaker
Mrsdrron emailed the director of Expedition cruising for Silverseas and after a few hours of nervousness we were reaaured when he replied that the blog had just one fact wrong-the icebreaker was not stuck and has guided the Explorer through 4 days of thick sea ice and it is now in ice free waters.
So from Otaru we will have visits to Hakodate then a succession of small Japanese islands renowned for volcanoes,birds or both.
Miyake-jima.
Hachijo.
Torishima.
Chichijima.
Haha-jima.
Then we set course for the Mariana Islands visiting-
Pagan.
Saipan.
Tinian.
Before we reach Guam.This is the end of one sector.We will only have about 6 hours though so probably just go to the shops and have some ribs for lunch.
Then it is the Yap islands.We visit Gaferut and Ifalik.
Another sea day and we reach PNG.Stops there are-
Vanimo.
Ali Island.
Murik Lakes and Kopar village.
Tuam
Tufi.
Fergusson and Dobu Islands.
Then through the Marovo lagoon to Honiara n the Solomons.
Then Santa Anna and Santa cruz.
Finally before reaching Fiji we cruise through the islands of Vanuatu.
Loh.
Rano Island.
Tanna.
Finally reach Lautoka and transfer to the Sheraton Denaru.
Then FJ to Syd for some family time and our second last domestic JASA back to BNE.
Last edited: