I thought I'll share a brief report on the new first class on Emirates 777-300ER product, from DXB to ZRH - EK85 which I flew on this week, as well as a visit World Expo 2020 in Dubai.
Booked it as classic reward flight on QF points (89 800 + AUD177 of taxes) for that leg, combined with an economy classic reward SYD - DXB on EK415.
Had to grapple with what turned out to be phantom award availabity on the SYD - DXB leg in First, then not being able to book a mixed class multi-trip award of QF, but fortunately this was sorted out very quickly on the phone.
1 Day prior to travel
PCR testing was done at one of the Histopath community testing location, as I didnt want to risk it getting it done at the airport. No queues (every since they removed the drive through feature), and results obtained by email 6 hours later. Not bad at all for $79.
Day of travel
Arrived at SYD international at 7pm for a 9:45pm departure. Decided to use the airport parking as pricing is still attractive when using the promo code. Glad I got my PCR test the day prior as there was quite a queue (no surprise here given about 8 flights departing between 9pm and 10pm that night).
Document check prior to entering the check in line proper - the Dnata agent had a cheat sheet for the requirements of each destination. I had to show my negative PCR cert, proof of vaccination status, and completed Swiss entry form.
The check in area was completly packed in economy, and if I didnt have status or flying in a premium cabin, I would probably avoid travel until things settle more.
Fortunately no wait in the First/Platinum queue. Both boarding passes issued, bags tagged through to ZRH, skis dropped off at oversized baggage, then its through immigration (smartgates back on again) and security, and the QF lounge for dinner.
Menu hasnt been updated since it reopened in November last year, but you cant go wrong with these classics.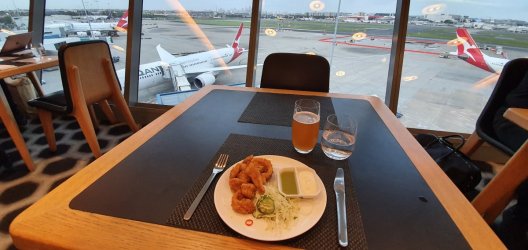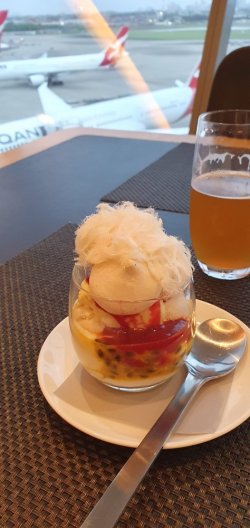 Good to see the QF lounge buzzing with activity. Also dropped the Plaza Premium (former Amex lounge, which Emirates is using while their own lounge is still closed) to get some bottled water. The new seating arrangements make the small space even smaller, and it wasnt worth spending more than a few minutes there.
Decided to board early to get settled in and rested. Got a seat in the front section of economy. No empty seat beside me unfortunately, but an otherwise comfortably flight. Skipped the dinner service and ate a very nice fritata for breakfast about 3hrs from Dubai. Emirates ICE inflight entertainement is amazing as always - rewatched a few scenes from No time to Die (agent Paloma shootout scenes) and HBO's Raised by Wolves. Landed in DXB right on time at 0515.
Boarding EK415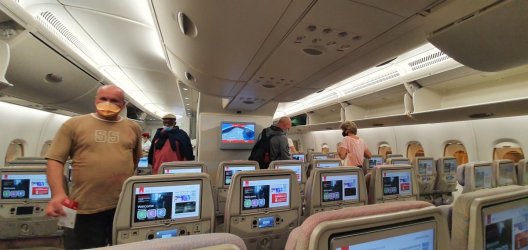 Arrival in Dubai
This would be my first time leaving the airport in Dubai.
Immigration was easy, no proof of PCR testing was asked for, nor was there any entry forms/travel declaration required.
An impressive arrival/baggage claim area.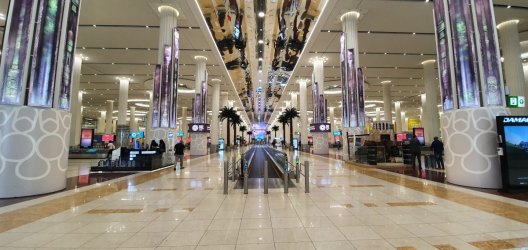 No bags to pickup so it was straight out to the exit.
Purchased a transport daypass (this covers the metro, trains, trams and buses) for AED22, then headed towards the city.
Next part - Expo 2020