Joined

Aug 21, 2011
Messages

9,773
Solutions

5
Points

1,125
A few years ago, the RBA ruled that businesses are allowed to charge credit card surcharges commensurate with the cost incurred by their bank. But my understanding was that an alternative, fee-free payment method needed to be available - otherwise the surcharge needs to be included in the up-front price. Am I mistaken?
I've seen several examples recently where a credit surcharge is added at the final payment stage, even though credit card is the only possible way to pay.
For example, when booking a flight with FlyPelican, they add on a credit card surcharge of 1% for Visa/Mastercard or 3% for Amex/Diners Club. But there is literally no other payment option provided. In this case, shouldn't the 1% surcharge by included in the up-front price - otherwise it's drip pricing because the total minimum charge is not displayed upfront?
It's not just airlines. I recently visited a restaurant which only accepted card payments - yet added a surcharge for this.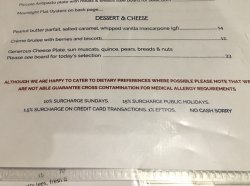 What am I missing? Can businesses legally do this in Australia?