Hey all,
We are trying to travel back from south Germany (Frankfurt/Munich etc) to Australia (preferably Sydney) in mid-late August (preferably 20-24th).
Not much availability but I've come up with a few creative routings on the BA website via asia.
Unfortunately Qantas doesn't seem able to see this availability when using 'multi-city' on their website nor on the phone. I'm trying to keep it to a single award chart and stops <24h to minimize points required.
E.g.
22nd Munich-> Haneda via DOH (QR)
24th Narita -> Sydney (JL)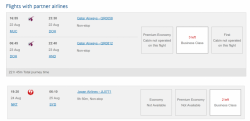 See picture
Unfortunately Qantas can't see these flights
I've tried calling them twice. No dice.
Any tips or suggestions?