After the latest of Tony Hancock's car park photos I lightheartedly suggested that, in order to allow others to share their photos of these glorious sights, a thread purely for Car Park views should be started. A few people seemed to find the idea amusing so I have taken the bit between my few remaining teeth and have created one.
As a starter a couple of mine. Everyone please add any fabulous or otherwise photos of car parks.
First the gritty
Car park at the back of the Lindemann's Hotel on Potsdamer Strasse in Berlin. (Our leased Renault Grand Scenic is in the middle on the right.)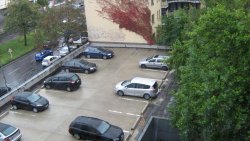 Next a bit less gritty
The car park of the Point of View Suites in Louisbourg Nova Scotia looking across Louisbourg Harbour to the re-constructed Fortress of Louisbourg. ( Our hired jeep is second from the left.)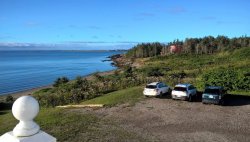 Then a little bit foggy the next morning.