So, about a year ago and after having read some of the threads on Australian Frequent Flyer, I decided to burn some of my Velocity Points and look at ticking off one of my bucket list items and flying a long haul leg in F.
After much playing around, I managed to transfer about 210k velocity points into my Krisflyer account and booked FRA-SIN and then SIN-SYD flights in First Class with Singapore Airlines (just before the devaluation between Krisflyer/Velocity for the end of September 2019 . Around March 2019 I booked my forward legs to Europe, (mainly in Portugal) with Etihad where I was to spend about 22 days.
It was an amazing experience, flying with 4 different Airlines, visiting 7 lounges in 5 countries on 4 different continents. I'd only ever experience economy class on international flights and honestly, I don't know how I'll ever go back! (though my wallet will undoubtedly make sure I have no choice).
So I started off a SYD-AUH leg, flight EY455 but before departure and thanks to my Gold Velocity status, I had access to 'The House' at Sydney International Airport. Being such a late departure, there were very few people in the lounge and the food offerings were quite good with an offering of A La Carte dining available, which I took advantage of.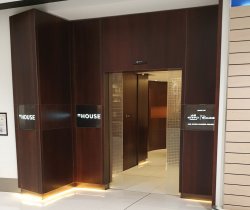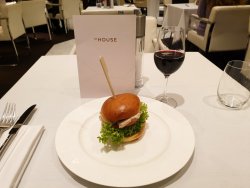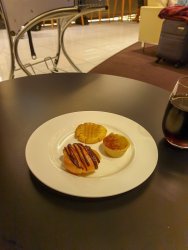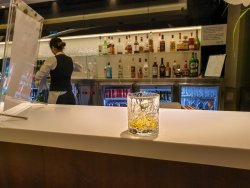 Never having flown with Eithad, to say I was a little apprehensive would be an understatement, especially after having booked and then deciding to read up on the reviews that have been given. Unfortunately it was a non refundable economy booking and I was stuck, whether I liked it or not. I decided to book the extra legroom as it was a 14 plus hour flight and I found my seat to be more than adequate and I'm 186cm tall. The whole process of checking in and boarding was a breeze thanks to my Velocity Status and I needn't have worried about the on board service or the meal portion sizes or frequency as the were better than I have received on many other airlines.
It seems that Etihad, after so many customer complaints has reviewed the menu. Portions were good (I should have taken a picture) and I was offered snacks and drinks throughout. As hungry as I get, I didn't need to order from their inflight paid menu and the plates seem to be presented differently from the way that I had seen other people complain about.