Joined

Jun 7, 2006
Messages

9,540
Solutions

1
Points

1,810
Qantas

Platinum
This morning I took myself off to Jandakot Airport (JAD) for a ride in a Tiger Moth for something to do.
The Royal Aero Club of WA operates two aircraft; one they own, the other they operate on behalf of a private owner. Today's flight was in the latter.
They do 30-, 45- and 60-minute flights, with optional aerobatics. I opted for 60 minutes, including aerobatics.
Here's the baby. I was assigned combined seats 1A/K.
TKWIA. You might say a cheek on each...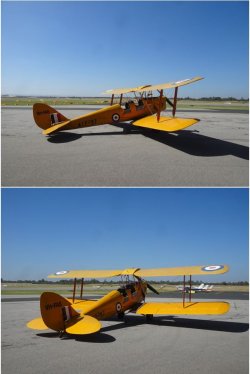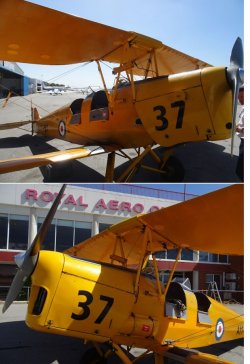 Original inverted dry-sump engine, gravity fuel feed from the tank in the middle of the top wing, manual start. Aerobatics would be +ve g – there's no way to restart that baby up there if the donk stalls.
David, the pilot, pointed out that the engine 'breathes'. It's a euphemism for 'leaks oil'. As you will see, this came to slightly haunt me.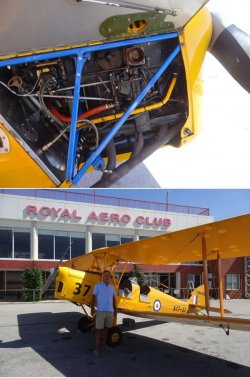 The weather was pretty good for such a flight. The W coast trough moved in from the coast overnight, so the upside was a light SW breeze; downside was a humid inversion after a hot day yesterday, making it hazy.
Here's the flight plan. Out from JAD, climbing to cruise at 1500ft towards Fremantle, turn right and track up the Swan River to pass in front of the CBD on the port side, swing left and track behind the CBD over Lake Monger to just S of Scarborough Beach, turn left and drop to 500ft for a pass along the coast – Floreat Beach, City Beach, the SAS base and Swanbourne Beach, North Cottesloe, to an orbit above Cottesloe, continuing tracking SW over Fremantle Harbour, Carnac Island and the N end of Garden Island naval base on the R, climbing to 1500ft and aerobatics in the narrow window between 1500 and 2000ft before tracking directly back to JAD. Cool!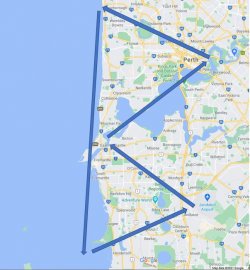 Here we go!
The latest glass coughpit…