Joined

Nov 23, 2019
Posts

99
Hi Guys,
I'm heading off to Heathrow today on JAL via Haneda in their lovely J class. Managed to secure 1A so very excited - first time in JAL J class.
Flew down from Sunshine Coast yesterday in Qantas J and was packed but nice flight.
Stayed at the lovely Rydges Sydney airport last night with amazing views of the airport. Really impressed and very easy for check-in for next day.
Stayed in an exec room on top floor - ask for room 805, has the best views.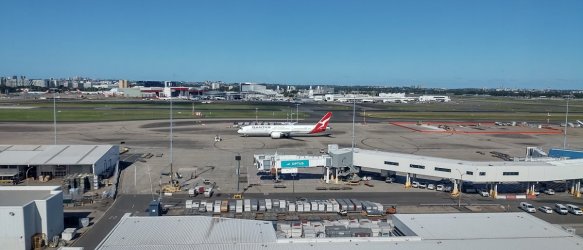 International airport was fairly quiet, there were people directing you to departures.
Went to JAL business class check-in and it was quiet, one person in economy waiting.
Greeted by name by a lovely check-in agent, she was so helpful.
Checked vax status (double dose), day 2 rapid test booking, and pax locator form. Took my passport and followed her to desk and she checked me in. Was told flight has 20 ppl on total! And only 3 of us going thru to LHR.
Also said Sakura lounge will close 10pm and reopen 6am so some time spent on benches sleeping haha. She apologized profusely but I was expecting that so brought a pillow and blanket. I also have access to ANA lounge so maybe that can be a stop gap.
On a side note, with UK PLF it won't actually let you complete it if it's outside the 48hrs, so u don't have to guess when to do it, which was cool I thought.
Security and border was very quick, no lines.
Check-in agent said I could visit qantas lounge as JAL is oneworld and I'm in J. Got to lounge and only first QF was open as business lounge closed.The 3 ladies on the front desk all declined me access saying JAL isn't oneworld and I don't have status (I'm a bronze fflyer with Qantas club) even tho I'm flying in business. I was a little shocked and they weren't terribly nice tbh. If anyone knows, is this true?
So I'm now in plaza premium lounge which, while small, is nice and the ppl here are friendly....an hour to go before boarding. I'll keep this trip report going for ppl who r interested in hearing me babble on haha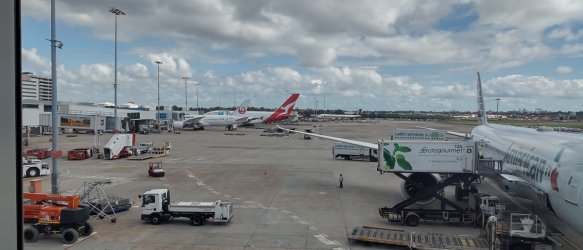 View from plaza premium lounge