Joined

May 29, 2021
Posts

792
Qantas

Gold
Virgin

Red
Just thought I'd start this thread here since I haven't seen anyone talk about experiences staying at Best Western properties common in the Americas and to a lesser extent in Australia. I'll begin:
Property: Best Western the Plaza Hotel (Honolulu, HI)
Date Stayed: Saturday May 21 - Sunday May 22 (1 night)
Best Western Status: Diamond
Room Booked: 1 King Bed
Rate: 28,000 Best Western Rewards points (I see the rate has since increased slightly to 36,000 points)
Room Upgraded: Accessible corner room with decent views
Welcome Amenity: 2 Bottles of Water
I landed in Honolulu at 6 AM off the JQ3 "red" eye. After clearing Global Entry, picking up my luggage, getting Starbucks (something they don't really have in Australia) and calling my parents, I decided to make my way to the hotel, getting there around 8 AM. I booked this hotel specifically because I read online that they do early check-ins and they didn't disappoint! Friendly staff at check-in desk gave me a couple of options: I could get a lower level accessible room right now, or could wait a couple of hours for a higher level room to be made available. Since I love staying in accessible rooms and was already pretty sleep from this long "domestic" flight, I chose the former. Check out time here was noon so there really wasn't much use in me asking for a later check out, especially since I had the DoubleTree in Waikiki to look forward to Sunday onwards.
My room: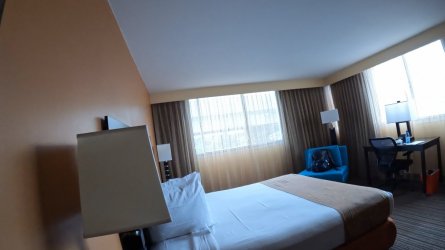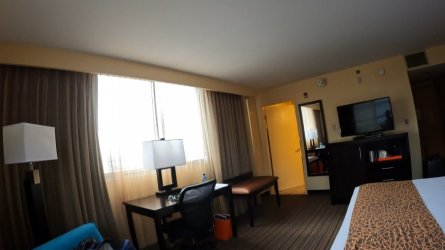 The accessible water closet was a welcome addition, especially for someone who can benefit from the additional space: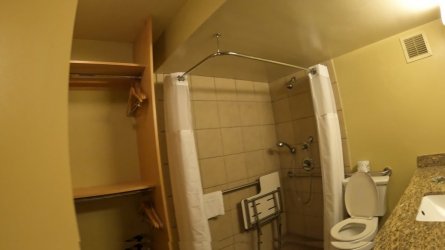 Complimentary buffet breakfast consisted of the usual suspects: cereal, waffles, various breads, yogurt, fresh fruit, etc. One notable surprise was the inclusion of a Jimmy Dean brekkie sandwich: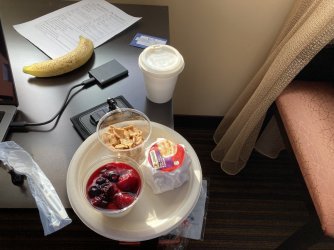 I should point out this hotel is near the airport which can be a good or a bad thing depending on what you're after. Whilst the hotel does have a pool (not pictured) nothing quite compares with Waikiki beach IMHO. Then again, if you're coming into HNL early or have an early morning flight out of HNL this might be the ticket for you!
Here's the Welcome Letter I received with some more details for those interested: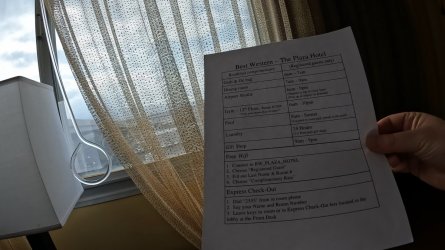 -RooFlyer88