Joined

Aug 1, 2008
Posts

2,167
Qantas

Platinum
Virgin

Red
Just taking a quick week off and heading all over the place. Let's see how it turns out. You never know who you might run into
It's Friday the 13th and I'm booked on QF2403 EMD-BNE departing @ 8.25 allowed for a couple of hours in the QP and then a separate booking QF712 BNE-CNS where I had picked up a $499 one way J sale fare. Ordinarily it would be one booking but had to use up an old credit and the utilise a DSC voucher for CNS flight etc.
13/05 5.00am and I'm up to pack so I can leave home at 6.30am for 100km drive to EMD airport. 5.20am SMS from QF "Flight cancelled" 5.30am SMS you have been rebooked on QF2405 departing at 12.00. Not much good to me when QF712 departs at 12.50
by this time it's 5.45am and knowing QF wouldn't rebook second flight because they weren't linked I poured myself a coffee and dialed the Plat Line ..........
Call was answered after 11 minutes and I recognised the accent immediately. I thought WP's were supposed to redirected to Hobart but guessing it was too early?
Explained my situation and was told that my BNE-CNS flight was an involuntary cancellation so I would have to stump up an extra $450 to rebook on QF714 in J. I had already checked there were still J seats available before calling. I stated that it wasn't me who cancelled the first flight and stuffed up my plans and insisted I get rebooked at the same price with the same booking reference (DSC) Can you please hold sir I need to speak to my supervisor
The phone alternated between elevator music and nothing ( I actually thought he may have hung up at one stage ) at about the 28 minute mark Josiah IIRC came back and said he would rebook me on QF714 at same price and same booking reference. Hallelujah! So after my last few multi-hour phone interactions with QF I get a result from the most unlikely of call centres
the situation was resolved in 31minutes and 24 seconds. Email with new ticketing on my account within 10 minutes. After the horror stories of recent times I thought I should at least acknowledge a positive outcome. One other thing was the sale fare was going to give me 60SC (x2) once rebooked I went into a higher fare class and ended up getting 70SC's ...... winning!
I was originally booked in 2F but upon boarding a Dutch couple who were seated separately asked me if I would mind shifting to 3D. Of course I had no issue with that. The first newspaper I have bought since Covid started.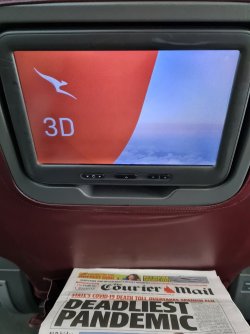 The J Class toasted sanga. Really tasty and better than last year's party pies and mini quiches or whatever nonsense they served up. EMD-BNE was late out and after all the rejigging etc I only had 30 minutes in the QP which consisted of 2 x Shiraz and a plate of Rendang curry or something which was basically liquid and carrot and missing the meat. So the toastie at least was filling.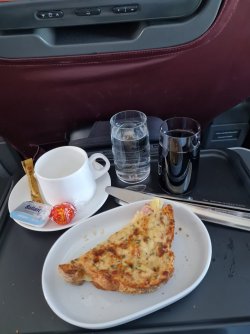 Good flight up and the CSM picked up pretty quickly that I didn't mind a red or two and kept me filled up
arrived in CNS on time and shared a cab into Pullman International with a lady who was attending a conference. Caught up with my wife and a friend who had driven up the day before as there was group of their girlfriends all going to the Red Hot Summer concert.
Last edited: