Joined

Nov 25, 2004
Posts

30,449
While tending bar at the Holiday Inn in Clinton, New Jersey, Summitt got to chatting with a friendly couple before the night got busy. The man asked her if she had dogs of her own; she confided that her "baby," a Great Dane-black Labrador mix named Tucker, was at the veterinary hospital after having emergency surgery hours earlier after he swallowed a hard plastic ball. She was worried about him.
The man said something about surgery being expensive. She confided the estimate was around $2,700, but she would do whatever she had to do for the dog, whom she adopted in 2011. Summitt, 37, works three jobs -- full-time as a chef at the hotel, Saturdays as a bartender, and as a food prep worker two days a week at a deli in her town. Her husband works full-time and Summitt has three stepchildren.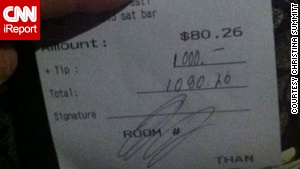 The Holiday Inn confirmed the tip was legitimate
The couple ordered drinks and dinner at the bar. When it was time to close out their $80 tab, the man filled out the receipt with a tip -- for $1,000.


http://edition.cnn.com/2014/04/23/living/bartender-tip-dog/index.html